Mar 24, 2020 / News
Posted by: Ted Hudson
Our teams are working hard to connect residents with their loved ones through a variety of digital platforms.  Here is a list of how to connect with your Village to set up a video call or other connections with your loved ones.
Coleman Care Centre
Skype/FaceTime: Monday-Friday 1:30-3:00 for 15 min time slots.  Families to either message on social media, or call the village to book a time slot 705-726-8691
Email your loved one: Send an email to karen.andrews@schlegelvillages.com - we will then share with your loved one and send their reply.  Pictures are also welcomed.
The Village of Sandalwood Park
Please contact our Director of Recreation through email - Jennifer.Gould@Schlegelvillages.com or call the Village at 905-458-9272
The Village of Tansley Woods
Please contact the Village at 905-336-9904
The Village of Humber Heights
To schedule a call with your loved ones at the Village please contact Markie Heeley via email at Markie.Heeley@SchlegelVillages.com
The Village of Riverside Glen
To organize a video chat with your loved ones at the Village please contact our Recreation Supervisor, Joelle Duchaine at joelle.duchaine@schlegelvillages.com
The Village of Arbour Trails
Contact the Recreation team at 226-251-3065 ext 811 - Details on Video Chat Assistance, Click Here
The Village of Wentworth Heights
We have 2-3 sessions scheduled per week per neighbourhood.
Long Term Care - Please email Amy.Fyfe@schlegelvillages.com with a date, time and phone number or skype contact so we can connect you with your loved ones.
Retirement - Please email Elaine.Thompson@schlegelvillages.com with a date, time and phone number or skype contact so we can connect you with your loved ones.
Hamilton Continuing Care
To schedule a Virtual Visit, families can contact the Village directly or set up a date and time with the recreation team through the following email: hcc.recreation@schlegelvillages.com or call 905-527-1482
The Village of Winston Park
Hey, friends and family! Are you looking for ways to connect with your loved ones? Call our Village Office at 519-576-2430 and book your video chat via Facetime, Google Duo, WhatsApp, or Skype! We'll be happy to set it up!
*With the number of requests the village is getting we are asking that calls be set for only 15 minute sessions so that we can ensure everyone has an opportunity.
The Village of Glendale Crossing
Please reach out to Holly.Ross@SchlegelVillages.com by email, call the Village at 519-668-5600, or reach out via Facebook
The Village of Erin Meadows
Details for the Long Term Care Families: Click Here
Details for the Retirement Families: Click Here
Erin Mills Lodge
We are extending invitations to participate in virtual visitations with your loved ones. We highly encourage our family members to keep connections with our residents. Our Recreation team is arranging for our residents and their families to communicate virtually via Skype, or FaceTime. As we roll this program out, more times and flexibility will be added according to needs. Currently, we are looking at Monday, Wednesday and Friday evenings between 6:00pm-7:15pm. We will attempt to call 3 times within the allotted time slot. Priority will be given to residents without a phone or cellphone. If interested, we ask the POA to please contact the Recreation Department at eml.recreation@schlegelvillages.com with your skype details/FaceTime for preferred days of call and your loved one's name. We will promptly email back with confirmation.
Fairview Nursing Home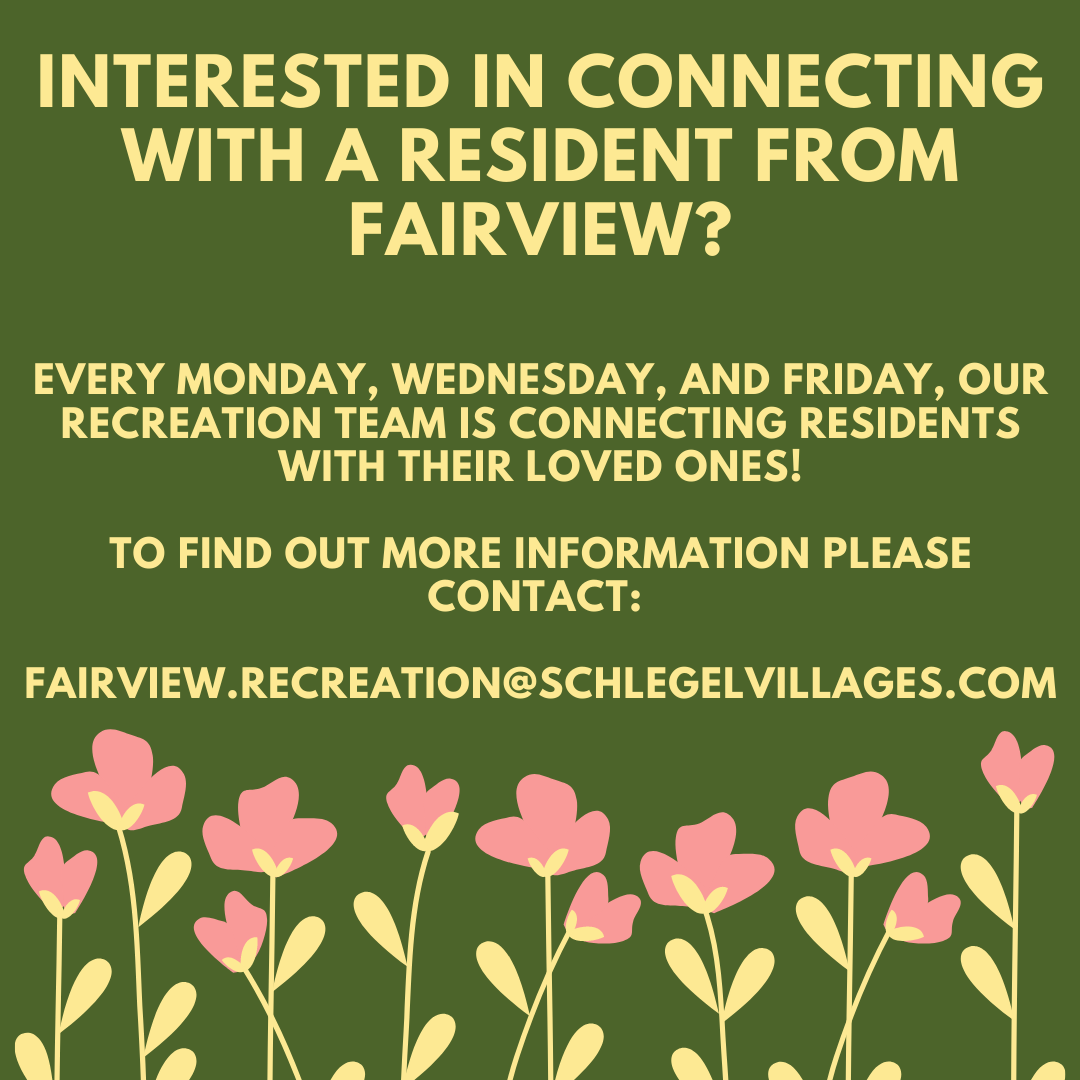 Email
Maynard Nursing Home
Please contact the Village at 416-533-5198
The Village at University Gates
Looking to connect with your loved ones - please contact the Village at 519-904-0650
Pinehaven Nursing Home
Information for Families to connect with residents: Click Here
The Village of Taunton Mills
Please contact the Village at 905-666-3156 (Poster with who to talk to)
The Village at St. Clair
Hello Everyone! We have had several families reach out to us in the last week to set up a time to communicate with their loved one. We'd like to share some important details about how you can get in touch with our Neighours at the VIllage. To book an appointment to Skype or Facetime with your loved one, please contact our Recreation Team Members via email at stclair.recreation@schlegelvillages.com As our Team Members are still providing programming in the Neighbourhoods, you may need to leave a message. Please leave your name and a contact phone number as well as the name of the person you would like to connect with. We will return your call as soon as possible. You are also most welcome to forward letters to the above email address that our Team Members will deliver and read to your loved one. Here are the names of the Recreation Team Members affiliated with each Neighbourhood: Gosfield - Colette Russo; Kingsville - Amanda Jones; Harrow - Amy Maycock; Essex - Shelby Tetford; Amherstburg - Carol Mantha or D-Anne Peters; Colchester - Felicia Laramie; Oldcastle - Michael Roy and Talbot - Alex Osorio. Thank you as always for your continued support during these difficult times.
The Village of Aspen Lake
Please reach out to Jenny.Brown@SchlegelVillages.com by email, call the Village at 519-946-2055, or reach out via Facebook