If Jake Corrent had to pick only one thought for people to consider in relation to preventing falls in long-term care and retirement settings, he'd say: "it's everyone's responsibility."
Since he began working at The Village of Aspen Lake in Windsor in 2014 as an exercise therapist, Jake has taken the lead in falls prevention activities and education. But within a multi-disciplinary team where each member has a connected part to play in the service of residents, there is no one person alone responsible for falls prevention.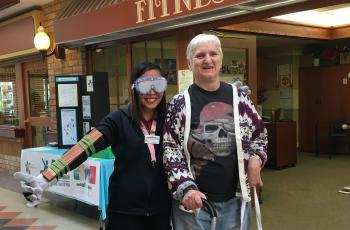 "It's not on one person or one department like nursing," Jake says. "I think that the more people that are engaged in falls prevention, the more we can mitigate the amount of falls and the associated injuries.
"Everyone has a role to play," he reiterates.
The fact is, a fall that results in an injury or fracture can have a devastating impact on the life of an older adult. Some may never return to the same level of mobility they had before the incident and some may never recover. Falls prevention is high on the team's list of priorities all year long, but the month of November offers an opportunity to heighten the conversation during Falls Prevention Month.
With the help of Kyla, a University of Windsor kinesiology student doing her placement at Aspen Lake, Jake has created a series of activities and presentations to keep the conversation about falls prevention going. He offered a "sensory deprivation challenge," for example, where team members were asked to wear goggles to simulate sight impairments, while their joints were locked and they were spun through disorienting circles before trying to make their way across a room to a chair. Some people who live in the village deal with at least one of these challenges every day, increasing their risks of falls. A challenge like this one reminds the team of this reality and urges them to remain vigilant and watch for the individual risk factors facing residents.
Each day this month at Aspen Lake offers a different topic of discussion around risk factors for falls, centred on a letter of the alphabet to correspond to the day of the month. "A" might stand for Acute Illness or Arthritis, for example, while "L" might relate to Low Blood Pressure. For Jake, the fact that residents, team members, families and guests are talking about falls when they walk through the village this month is a great victory.
The challenge, as always, will be to keep the conversation going throughout the year to encourage everyone to do all they can to lessen the risks of falls.