The stories and lessons carried home from the battlefields of war have always carried warnings. They were endless, it must have seemed, as the 1940s came to an end and the rubble of the Second World War made way for the rebuilding of nations. And yet, the warnings seemed to have gone unheeded.
Conflict, in many ways, continued to define the second half of the 20th century and to this day people in so many corners of the globe are displaced by terrible conflict. But the elders of today who were there when young men and women from the free nations of the world stood against tyranny and fascism in Europe, Africa and the Asian-Pacific rim still carry those lessons close to the heart. They always have.
There are fewer and fewer of them every year, however, and as Nov. 11 approaches and Canada prepares to once again honour the sacrifices of the past in the name of freedom, the lessons of these older generations should remain front-of-mind. Across Schlegel Villages, Remembrance Day is an important time. Many residents can no longer make the trip to their local memorials and cenotaphs, so the ceremonies come to them. Tears fall as so many lives lost are recalled, and many weep for the brothers, sisters, fathers and friends in whose memories this solemn day is named.
Team members and volunteers are fortunate to have a close connection to the wisdom these residents carry, and some have helped capture snapshots of these thoughts. At once simple and yet profound, a few of these quotes are being shared here on the Schlegel Villages website.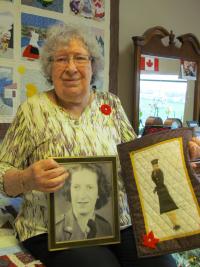 "Appreciate what you have," says Jane, "because it might not be there tomorrow."
"Love is forever," writes Richard Phillips. "War should never be."
Aspen Lake's Mildred Blyth was one of more than 24,000 women to join the war effort in 1943 with the Canadian Women's Army Corps (CWAC). She was in England when Victory in Europe was declared, and she says the celebration was wonderful to be a part of, tempered as it was with sorrow for the countless lives lost or altered forever.
"War was and is terrible,"Milly says, "and I hope we never have to go through it again."
She never hesitated, however, when a friend suggested she join CWAC. A woman had just as much right as any man to fight for freedom and she was proud to do her part. Milly remained active after the war and was part of the committee that helped erect a statue in Kitchener to honour the women who trained there as part of CWAC.
Most of the friends she held through life from those days are gone, she says, and on Remembrance Day they'll all be close to her heart. So many of the stories of the veterans pass with them, and Milly says it's important that strong efforts are made to teach younger generations the lessons learned in those terrible days.
In doing so, perhaps a new generation will be able to do what others throughout history could not and finally put to rest the futility of war and conflict. It would answer the wish of at least one Schlegel Villages resident, Linda Griffiths, who said: "My wish is that there be no more wars and peace reign supreme throughout the world."