Sometimes the losses a person must endure in this life come in waves, an endless barrage of challenges and sorrow creating a mountainous obstacle that seems practically insurmountable.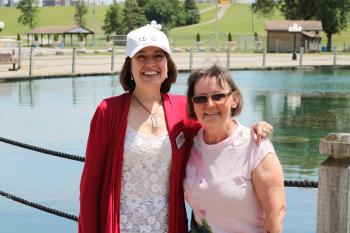 Vicki St. Amand knows this all too well. Huntington's disease runs in her family – she lost her mother to it and her grandfather as well and her son Jimmy also lives with it. In the spring of 2016, Vicki's beloved sister was taken by the disease and five months later, her daughter-in law followed. She'd lost other friends as well, and all this during the time Vicki had to surrender much of her independence, for she too lives with Huntington disease and she needed the support of a long-term care environment.
It was a dark period for Vicki as she came into her new surroundings at The Village at University Gates in Waterloo.
"I had too many losses and I eroded into myself," Vicki says. Anti-anxiety medication became more than a crutch and there were many days she didn't even want to emerge from her bed.
Then she met music therapist Melissa Jessop and Jennifer Allen, the village social worker who also has a music therapy background. Music became an outlet – a source of inspiration to remind her to push through.
"I had to get back," Vicki says. She had grandchildren who barely recognized her during this dark period and it was for them she says she "had to get sane again." She was angry, though, and Melissa and Jennifer encouraged her to channel those feelings into what would eventually become her "fight song."
"They listened to my anger and I was crying," Vicki recalls. "Melissa took the words down that I was saying that day and within two weeks, we had the fight song written. It just came out – it was meant to be."
That was when the darkness began to lift. Six months later, Vicki is no longer in need of the anti-anxiety medication and though times can still be tough and her grief is still very real, she has an outlet and she knows she has people she can count on. Through it all, her husband Don has been her "rock," she says, "my best friend through good times and bad."
And the music is always there. 
"When I'm feeling down or I have anxiety, I just push play on my phone and I sit in the library or wherever I am and I listen."
During the recent Pursuit of Passions event in mid-June that drew together more than 120 residents from across Schlegel Villages in a celebration of elder wisdom, talent and creativity, Vicki performed alongside Melissa and music therapy intern Annilee Baron. Never before had she stood before an audience to bare herself through song, but her strength held tight. She didn't sing her fight song – she saves that for herself – but instead chose to sing two songs her mother had written years before. She paid homage to the love her mother passed along and the memory of all the losses that have scarred her so, shaping her painfully into the person she is today.
There was strength in that performance and afterwards, when asked what advice she might offer others facing life's great challenges, she thought quietly before speaking.
"I would tell them to be strong, keep their faith in God and be true to themselves and it will all work out," she said, before adding a reminder.
"Music," she said, "soothes the soul."
---
Learn more about The Village at University Gates