At Schlegel Villages, we have the honour of caring for and supporting more than 4,000 residents in 19 long-term care and retirement Villages across Ontario. Their safety – along with that of their loved ones and the team members who work in our neighbourhoods – is our top priority.  
Visitor Guideline Changes (posted Sept 4)
On September 2nd, the Ministry of Long-Term Care released revised policies related to visitation in Long-Term Care Homes, which will come into effect September 9th. These changes will carry over into our Retirement Homes as well.  We know how important it is for our residents, loved ones and caregivers to be able to connect regularly in meaningful ways, so this is certainly exciting news.
However, as with each step of the province's methodical opening of our communities after six months of pandemic, there is additional risk and we all know how dangerous the COVID-19 virus can be on older adults and those with underlying health conditions. We must all work together to manage this risk.
We ask everyone to be patient in the coming days while our Villages work to prepare for additional indoor general visitors and to welcome designated caregivers.   We expect further details and direction to be available directly from Village Offices on Tuesday as we develop/finalize the required supporting forms and processes.  In the meantime, here are some of the key points to consider. 
The definition of essential visitor hasn't changed – these are people who are visiting a loved one deemed critically ill or palliative.
Residents can have up to two people designated as caregivers: Examples of caregivers include family members who provide meaningful connection, a privately hired caregiver, paid companions and translators. A maximum of 2 caregivers may be designated per resident at a time. This designation is decided by the resident or their established Substitute Decision Maker (SDM) as appropriate.  It should be noted that designated caregivers are required to have had a negative Covid test result in each of the previous 14 day period(s) in which they visit the Village as a caregiver (the Village is not required to provide the Covid testing).  Additionally, caregivers must also undergo the required training regarding Personal Protective Equipment (PPE) and other relevant topics prior to commencing caregiving visits.  Materials to support this required training will be made available by the Village once a person is designated as a caregiver with refresher training mandated every 30 days.  Caregiver visits do not need to be scheduled. 
General Visitors includes a person who is not an essential visitor and is visiting to provide a non-essential service or for social reasons.They could be hired by the home or the resident and/or their substitute decision maker. They can visit for social reasons (e.g. family members or friends) that the resident or their substitute decision-maker assess as different from direct care, including care related to cognitive stimulation, meaningful connection, and relational continuity.
There is a maximum of two general visitors at a time, but the home has discretion to limit this if there are too many people in the home.
All visitors must pass active screening before entering a home. This includes a temperature check, questions on symptoms and exposures to COVID-19. All support workers, all caregivers, as well as any general visitor who is visiting indoors, must verbally attest to the home that they have tested negative for COVID-19 within the previous two weeks and not subsequently tested positive. Homes are not required to provide the testing.
All visitors must wear surgical/procedure masks inside the home. Essential visitors are also required to wear additional personal protective equipment for interactions with residents who are self-isolating, suspected or confirmed to have COVID-19.
For general visitors, the scheduling of visits will continue to be up to individual homes' discretion, as long as residents are assured at least one visit with a maximum of two general visitors per week, lasting a minimum of 30 minutes. Homes are encouraged to make these visits longer, if possible. Visits begin when residents and visitors are seated in the visiting area, and staff are expected to respect resident privacy.
We have continually been grateful for the ongoing support we have received from our Village communities and we know that as we open up to this new phase, we will move another step closer to the true vibrancy we cherish here so much. There will certainly be additional challenges and we appreciate your patience as we balance the wonderful opportunity to welcome more people to our Villages with the safety of the residents we serve and support.
Friday, September 25 - 3:00 p.m.
Organizational Update
We are happy to share news today that The Village at University Gates Long-Term Care Village has officially been removed from Public Health's outbreak list. There has not been a positive case there for quite some time and the outbreak was a precautionary measure while additional testing was undertaken; all results have returned negative.
The Village of Humber Heights, which was not in outbreak but did have one positive team member from more than two weeks ago, received news the team member has been declared resolved, which is also great news. We look forward to welcoming this team member back to the Village.
At Fairview Nursing Home, where we have a small group of positive, but asymptomatic, cases, there is one additional positive resident. The team is doing an excellent job of supporting all residents while safely cohorting everyone to avoid any further transmission, and we wish the best for a quick and safe resolution for those who are affected. 
As we see throughout the province, case numbers continue to rise and there is much discussion about the second wave of the pandemic, which underscores how important it is to stay vigilant, keep our social circles small, wear masks when we must go out and wash our hands regularly. We also thought it would be worthwhile to share our Village's preparedness for the challenges that may lie ahead. Here is what we'd like you to know that has made us confident in our cautious optimism 
We have conducted and submitted an extensive second wave preparedness plan to the province and are confident that we can reassure our team, residents and families that we are prepared;
We have a well-stocked, central supply of PPE to ensure we have the equipment we need to keep residents and team members safe;
We are much better prepared to quickly and effectively cohort residents to separate, isolated neighbourhoods in our Village and, if necessary, isolate residents to prevent the spread of any infection. We can do this while still providing care and emotional support;
We conduct monthly Infection Prevention and Control (IPAC) audits to ensure we are not missing anything. Our clinical specialists with Support Office conduct these in partnership with our Infection Prevention and Control Lead and we are consistently pleased with the results.
We have a thorough and regular communication strategy in place that allows us to publicly share all relevant updates and other channels that help us quickly communicate with our residents, families and team members.
Update on Testing
There were some announcements yesterday from the province related to COVID-19 testing that seem to be confusing. Please note that under the provincial directives, any visitors and essential caregivers coming into Long-term Care settings and Retirement Homes that are linked to long-term care settings must attest to a negative COVID-19 test within the previous two weeks. Yesterday's messaging from the province does not change this requirement.
As much as we would like to be able to offer this testing for our families, we are not able to provide this service. Our resources must be focused on our teams and residents.
There are certain pharmacies that will be focused on testing family members of LTC and retirement residents, but we can't confirm those details in every location. There is a provincial link listing participating pharmacies that might be able to offer a little more clarification and if we learn more, we will share that information with you. Here is the link: https://covid-19.ontario.ca/covid-19-test-and-testing-location-information
Village Outbreaks - Click table to view image large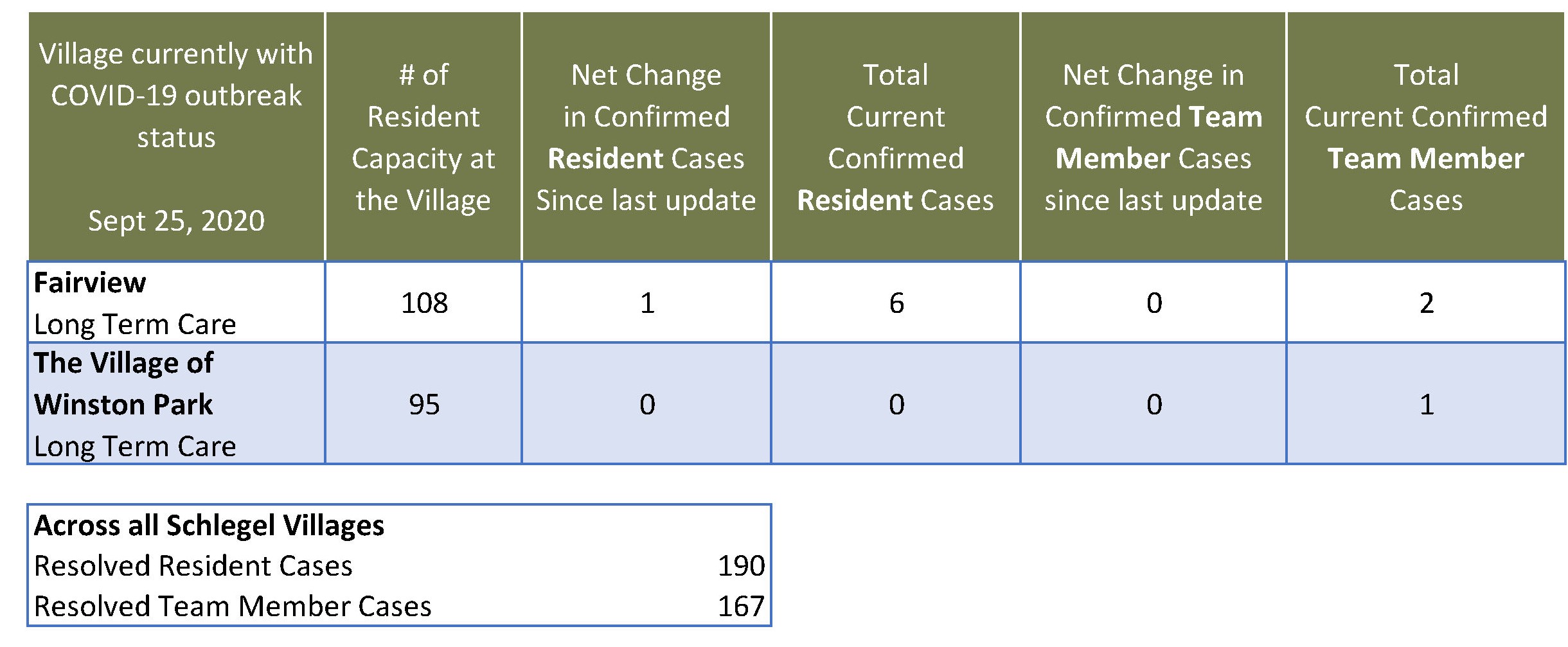 Team Member Support
Please remember there are important resources available to all team members through the Employee Family Assistance Program and Homewood Health. If anyone is struggling, this could be very helpful.The phone number is 1-800-663-1142.   
The Wilfred Schlegel Hope Fund is also an important resource and the committee has already provided team members with direct support through the fund. Applications will be assessed quickly. (Application Form)
Call To Action
We hire for heart at Schlegel Villages and we train, mentor and support our team members so they can fill their hearts by making a difference in the lives of our residents. Caregiving is hard work; it can be emotionally and physically exhausting, but it can be the most fulfilling work you have ever done. Read More
Previous 7 Updates
We sincerely appreciate everyone's cooperation and patience. We will continue to offer regular communication as any new developments arise, but in the meantime, we hope that beyond these additional precautionary measures, our residents and team members will continue to bring life to their neighbourhoods and Villages.
Please contact our communications team if you have any questions or concerns. We can be reached at Covid.Communication@Schlegelvillages.com 
PUBLIC INFORMATION AND RESOURCES: