At Schlegel Villages, we have the honour of caring for and supporting more than 4,000 residents in 19 long-term care and retirement Villages across Ontario. Their safety – along with that of their loved ones and the team members who work in our neighbourhoods – is our top priority.  
Precautionary Measures
To protect the health and well-being of our residents, their loved ones and our team members, we have implemented a number of measures in line with our robust Infection Control Protocols and the latest Ontario Health recommendations, including:
Enhanced disinfecting and cleaning processes;
Securing a reserve supply of personal protective equipment (PPE) and other supplies, including enough surgical masks for all team members to have two per day;
Implementing twice daily temperature checks and active screening of residents;
Our entrance screeners checking team members and all essential visitors are in full PPE, including mask, gown, gloves, goggles/visor;
Restricting access to only essential visitors for residents who are palliative or critically ill;
Villages have worked hard to evaluate all areas of resident interaction – dining, recreation, etc. – and we have put in measures wherever possible to maintain physical distancing.
Every Village has made arrangements to move to room service for mealtimes if Public Health determines this is necessary;
'Cohorting' is in effect in all neighbourhoods, meaning residents do not travel between neighbourhoods or between Retirement and Long-term care. This applies to team members as well to whatever extent is possible;
Working closely with Public Health Units to increasing testing capacity of residents and team members – note: Public Health has full control of testing for COVID-19;
Building and maintaining relationships with educational and training partners to ensure our staffing levels remain consistent.
There is no cross-over among team members in our Villages working in another LTC or Retirement locations, among part-time team members or full time alike. The team members working in our Villages only work in our Villages.
In consultation with Dr. Mark Loeb, Chair of Infectious Diseases, McMaster University,  we have added these additional precautionary measures
Residents are provided with cloth masks to wear when leaving their suites and when interacting with others
Every Village must conduct hand hygiene audits on each shift
We will update this information if and when any measure is adjusted or added.
Wednesday, May 27 - 4:00 p.m.
Organizational Update
After several days reporting positive progress in our Villages affected by COVID-19, we are reminded today of the toll the virus can take upon older adults and those with underlying health conditions. We are deeply saddened to report that two residents from the Alderwood neighbourhood of Humber Heights long-term care who had tested positive for COVID-19 passed away, and our deepest condolences are with their loved ones today and the team members who were close with them.
We find solace in the fact that Erin Mills Lodge reported 26 'resolved' team members yesterday and also in the fact that we saw no new additional cases and we are hopeful that Public Health officials will soon remove Maynard Nursing Home and The Village of Taunton Mills from active outbreak status.
Lastly, we wanted to mention a report that the Canadian Forces released yesterday related to their experience in 5 of Ontario's 630 LTC homes. This small group of homes was limited to these five following an initial assessment by government officials suggesting they were at greatest risk and most in need of aid. We must first offer our gratitude to the Canadian Forces teams deployed to these five homes in desperate times; these women and men stepped into a difficult and risky environment that was certainly exacerbated, if not created, by the pandemic. Just like the thousands of front-line care partners supporting Ontario's 77,000 LTC residents, these professionals did so with compassion and dedication.
The report highlights numerous concerns and provides a unique perspective through the lens of those soldiers struggling as they battle against COVID-19 in the five homes. We share a deep concern for the homes and providers that are struggling to provide the most basic of care, but we also want to acknowledge the vast majority of homes and care providers who continue to offer exceptional support for LTC residents during extremely difficult times.
In our Villages, we have conducted internal and external Infection Prevention and Control (IPAC) Assessments in collaboration with Local Health Integration Network and hospital teams, and we are proud of the results we've seen in all Villages. In terms of staffing, which the report points to as a major contributing factor amongst the problematic circumstances in those five homes, Schlegel Villages has a central team entirely focused on the recruitment and retention of our quality team members. They have been doing an exceptional job stabilizing our workforce. We're also grateful to point to the confidence we maintain in our central supply of PPE and we know we can provide our teams with all they need; that and ongoing education around proper PPE use helps us do all we can to protect both our team members and residents.
We are as proud of the professionalism of the vast majority of quality front-line care partners across the province who are working through this crisis as we are of the teams in all of our Villages. In light of the challenges we've seen in recent months, we look forward to working with our partners and policy makers to create a better future for the sector.
Cases to Date - Click table to view image large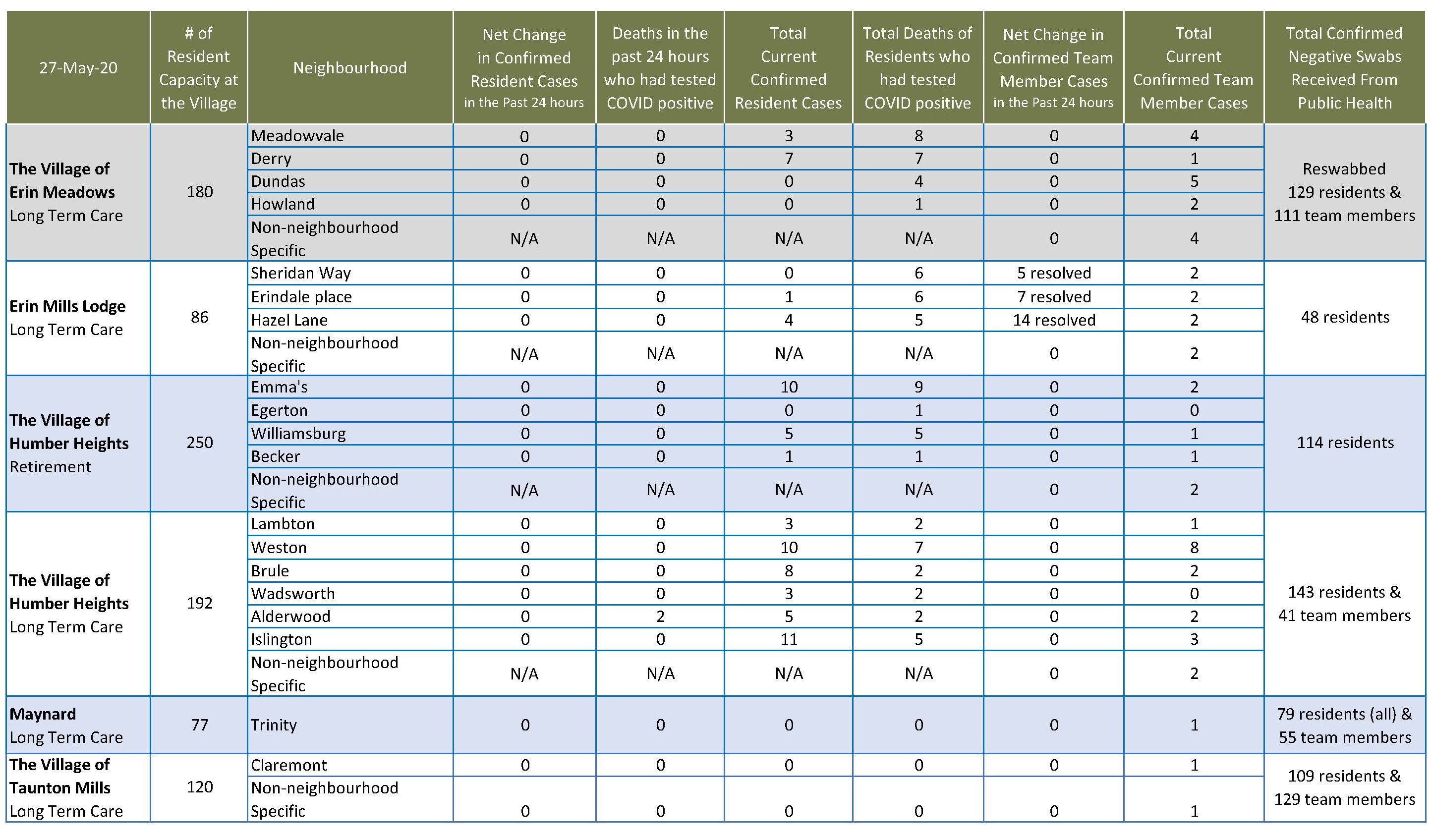 Total Resolved Cases Across Schlegel Villages as of Today:
Residents: 113
Team members: 78
Team Member Support
Please remember there are important resources available to all team members through the Employee Family Assistance Program and Homewood Health. If anyone is struggling, this could be very helpful.The phone number is 1-800-663-1142.   
The Wilfred Schlegel Hope Fund is also an important resource and the committee has already provided team members with direct support through the fund. Applications will be assessed quickly. (Application Form)
Call To Action
We hire for heart at Schlegel Villages and we train, mentor and support our team members so they can fill their hearts by making a difference in the lives of our residents. Caregiving is hard work; it can be emotionally and physically exhausting, but it can be the most fulfilling work you have ever done. Read More
Previous 7 Days of Updates
We sincerely appreciate everyone's cooperation and patience. We will continue to offer regular communication as any new developments arise, but in the meantime, we hope that beyond these additional precautionary measures, our residents and team members will continue to bring life to their neighbourhoods and Villages.
Please contact our communications team if you have any questions or concerns. We can be reached at Covid.Communication@Schlegelvillages.com 
PUBLIC INFORMATION AND RESOURCES: