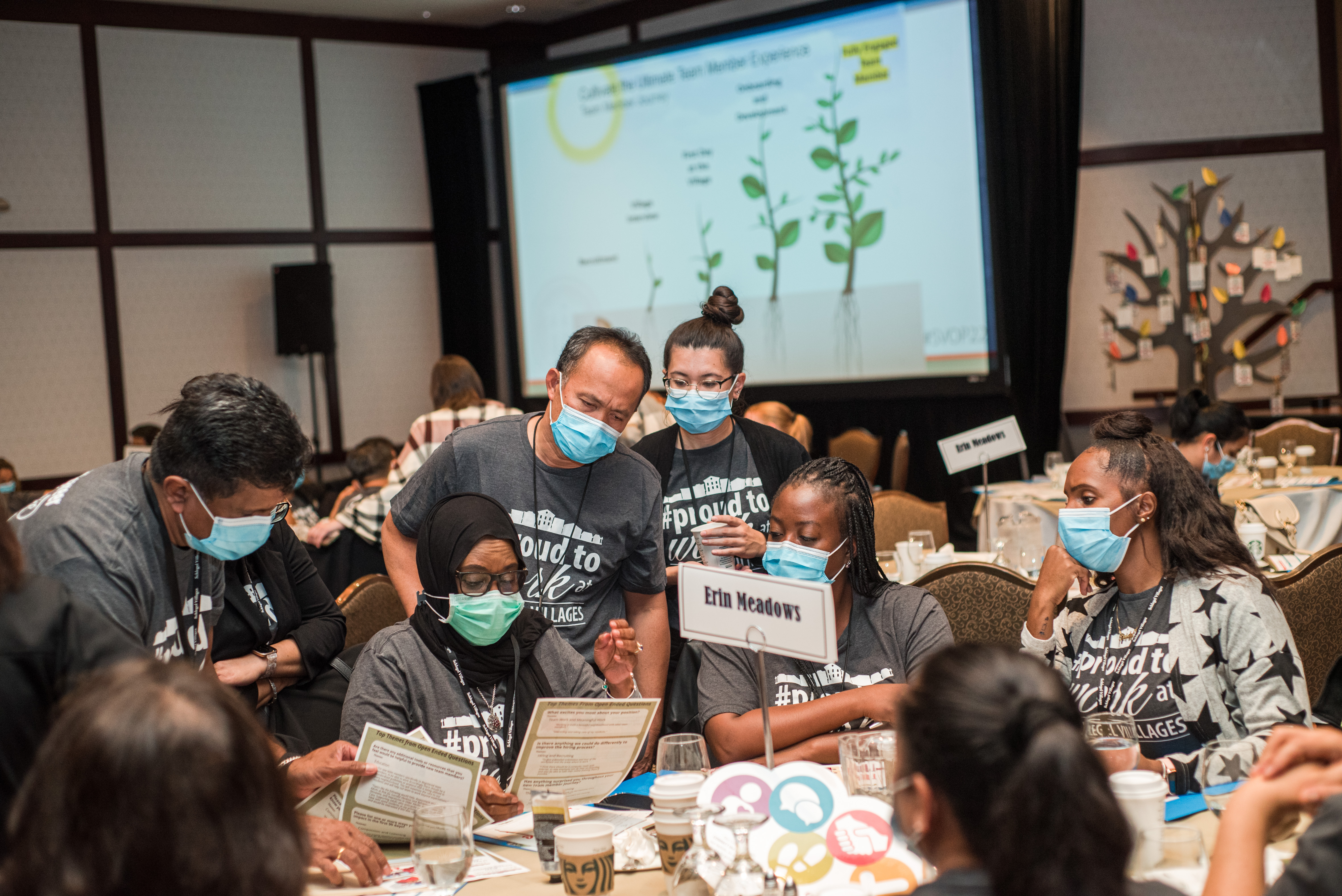 Stories of Growth
The team members and leaders at the heart of Village life are the keepers of the Schlegel Villages culture; they live our values in the service of residents and they drive the organization's mission forward every day.
"In every neighbourhood of every Village, we see these wonderful, committed team members giving the best of themselves to others," says Christy Parsons, Vice President of People with Schlegel Villages. "To meet the challenges and demands of the present and the future in terms of staffing our Villages with the best people that align with our values and our culture, we need to nurture our leaders from within."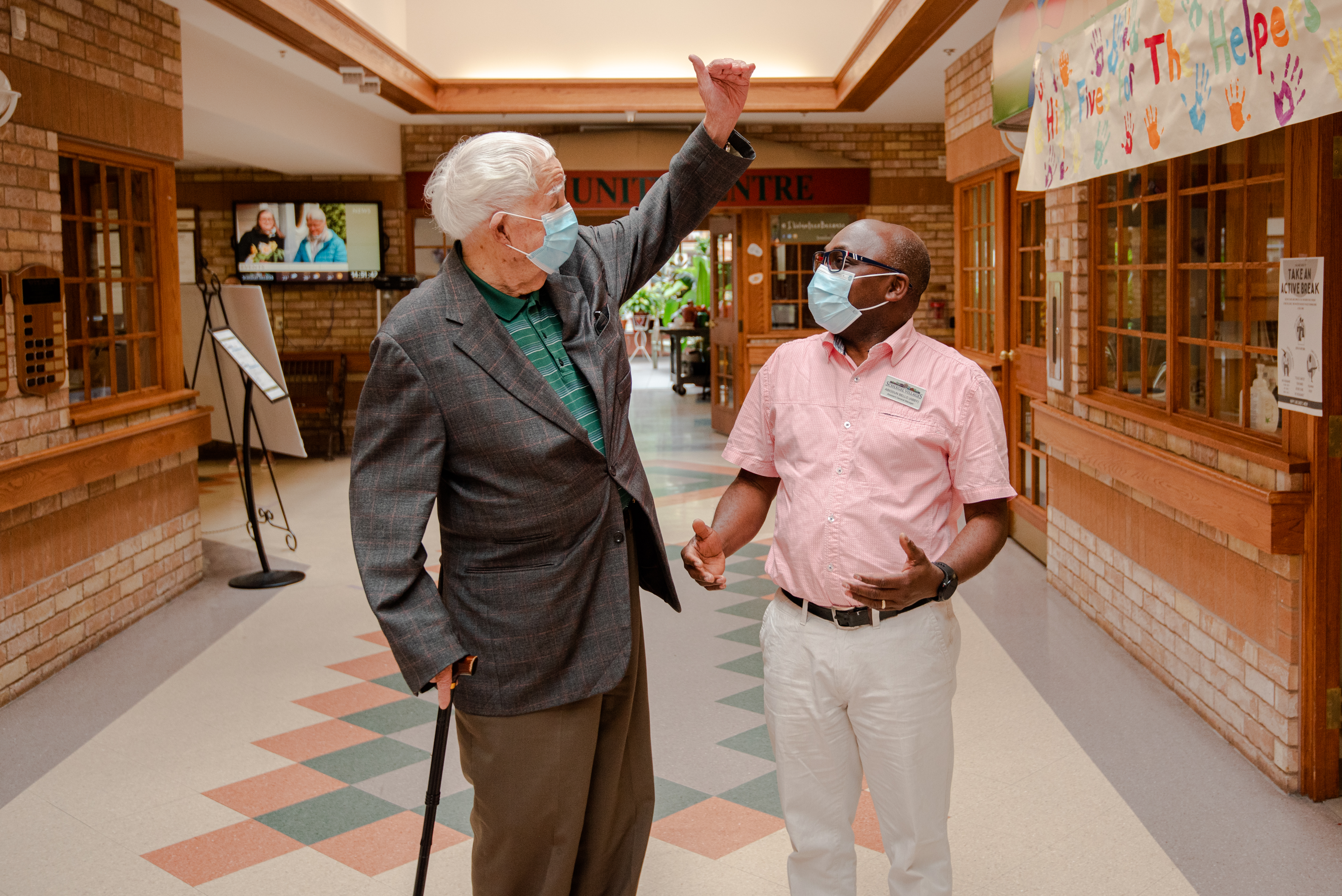 Christine's Story of Growth
"I feel super proud to work for the only organization in terms long-term care and retirement that I know of that hires kinesiologists to support the residents, to support the Villages," Christine says. "I just feel so proud to represent my profession as well as the role we play in the villages."
The question isn't "can we do it?" when it comes to Christine Hames. It's "how can we do it?" Her friend and mentor, Jaimie Killingbeck, says Christine's passion for enhancing the lives of others is the greatest strength she carries along a path at Schlegel Villages that began in 2011.
Christine was hired as the kinesiologist at The Village of Riverside Glen before moving into the same position at University Gates when the Village opened in 2016. She eventually moved into a leadership position as the Director of Environmental Services, where she thought she would remain. An opportunity to lead the organization's Program for Active Living arose in 2019, however, and she has been in that role at Support Office as a director ever since.
Kinesiology wasn't a well-known profession when she graduated and Christine admits she didn't know where her degree would lead her, but she is proud of where she has landed.
Champa's Story of Growth
"I'm proud to work at Schlegel Villages because it's an organization that really cares about its employees and residents," Champa says, noting that she has always been treated with respect and dignity and her voice has always been heard.
"Champa is really authentic in building relationships, and I believe that is her greatest strength," says Jefferdie Fiesta, the Director of Quality and Innovation at Erin Mills Lodge. Jefferdie first met Champa when she started at the small home in food services, and he watched her grow through training as a PSW and her development into a neighbourhood coordinator.
Her dedication and her ability to connect with everyone she meets earned her a Schlegel Villages Success Award under the Credo Know Me, and that same dedication prompted leaders to inspire her to continue to grow her career path.
"It's a bit unbelievable to me as to how much I could grow, both in my career and as a person, in a short period of time," Champa says. "I'm very grateful to Schlegel Villages for providing me with all these opportunities that made me successful. I honestly could not be happier."
Champa carries a Positive, Can-do attitude with her always, Jefferdie points out, noting that she came to Canada with a temporary work visa and was eager to work hard and earn her permanent residency. She was a light of positivity during challenging times under COVID-19, and she never wavered.
Saurabh's Story of Growth
"This story has been one of the most interesting, joyful and endearing journeys of my life," says Saurabh Bhatnagar," the General Manager at Toronto's Fairview Nursing Home. His journey began at The Village of Humber Heights as a hospitality supervisor and led to many other leadership roles before landing him in his current position.
"Regardless of what team he serves, they willingly follow him because of his ability to create a level of trust," says Rose Lamb, Senior Vice-President of Operations with Schlegel Villages and a long-time mentor of Saurabh's. "He shows them compassion, he instills hope."
When considering the pride he feels in his work with Schlegel Villages, Saurabh thinks of an Indian poet who once said: 'Where my head is held high and my mind is without fear . . . let my country awake.'
"Every day when I come into work, my head is held high," Saurabh says, "and my mind is without fear because I know I have the support of a fantastic organization behind me. We are part of a family."
That sense of belonging, he adds, "is irreplaceable. It is coursing through my veins every time I step into work. This is my home."
Rose says Saurabh offers the same sense of comfort for those around him, as he never wavers in his ability to recognize when someone may need a little extra help at their back, and he's always there when needed.
Laurie's Story of Growth
"I feel that with the experience I was able to gain as a front-line team member, it really set the path for my success when I entered into a leadership role," Laurie says. "I also find it meaningful that we're encouraged to foster relationships with our team members, our residents and family members."
When her beloved grandmother could no longer safely live on her own, Laurie Dovidio began helping her look for an appropriate retirement home. She learned quickly that this isn't always an easy process.
Laurie had excelled in three different roles at the Village of Tansley Woods in both Long-term Care and Retirement, so she had a deep understanding of the operations behind Village Life. Based on her grandmother's experience, however, she knew she wanted to be in a role that could make the process easier for others in similar situations to help alleviate the stress and worry her family had experienced.
In 2022, she began helping guide families and prospective residents through this process as a Director of Lifestyle Options at Tansley Woods. "Laurie is the most genuine and empathetic person that you could come across," says the Village's General Manager, Jo-Anna Gurd. "Not only does she become a friend but she just has that loyalty and that ability to inspire others to be more like her."
Laurie credits the leaders who supported her over 15 years with her success, humbly acknowledging their influence. She says upon reflection that she was surprised by how quickly she could grow her career with Schlegel Villages.
Donna's Story of Growth
Genuine and Humble is the organizational value many would use to describe her and, in typical fashion, Donna says she's surprised by the faith shown by those who have encouraged her over the years. It is no surprise for anyone who knows her, however, for her commitment to the residents and team members she serves is apparent in every action she takes.
Donna began her life as a nurse in a hospital setting, and she had never before stepped foot in a long-term care home. That changed in 2005 when she began her story of growth with Schlegel Villages at Mississauga's Village of Erin Meadows. A friend mentioned Donna should apply to the Village and she began in a part time capacity before an opportunity arose as an Interim Assistant Director of Nursing Care at neighbouring Erin Mills Lodge.
"That was my very first role in a leadership capacity," Donna says. "I had some really great mentors and co-leaders, that supported that journey when I was in that role."
Within a year, her leadership capacity, her compassion and her steadfast approach to supporting the residents and team members led to the position of General Manager.
"Donna's greatest strength is definitely her empathy," says Anneliese Kreuger, who has been one of many mentors to watch Donna's strengths flourish over the years. "I love to watch how she pays attention to all the details when somebody new comes into the Village, whether it's a resident, team member or a new leader that's starting.
"She wants to know their story and empathize with where they're coming from and make sure that experience is really special for them."
Augustin's Story of Growth
Augustin believes the meaningful relationships he has built and nurtured over the years with residents, mentors, and fellow team members offer his greatest source of contentment.
"It adds to life," he says of each relationship. "It adds to me as a person. I have been blessed to have done multiple roles at multiple locations and each village and each role has added to my experience and I feel that that is a great blessing."
Augustin is the quintessential caregiver – a nurse with a calm demeanor that can put anyone he connects with at ease. This was evident in the first moments he began working as a charge nurse in Long-Term Care at The Village of Humber Heights; when an opportunity to help lead the clinical team at the Village of Erin Meadows as an assistant director of care opened up, Augustin was a logical name put forth. His path would then carry him to Sandalwood Park as Director of Care and Interim General Manager before he moved to Tansley Woods as Assistant General Manager.
Augustin's natural focus on resident and team member well-being brought him to The Schlegel Villages Support Office where he could influence teams as a Clinical Specialist and in early 2021, he was offered the opportunity to serve the entire organization as Director of Clinical Services.
"When I'm looking at the list of values for our organization, the one that pops up the most is caring," says Ripu Phull, Assistant General Manager at The Village of Tansley Woods who, in many ways, grew into her role under Augustin's quiet mentorship. "Augustin does everything with his heart; those who work closely with him know that he cares about you, generally, as a person first. He's invested in your growth as a person in life."
Luke's Story of Growth
"I'm so proud to work for Schlegel Village because we are a values-based organization and that really guides us in everything that we do," Luke says. "That's unique when I think of a lot of organizations I've worked for in the past. This is a big part of my identity of who I am as a person, and I'm proud to talk about where I work and who I am."
Luke began his journey with Schlegel Villages in recreation at The Village of Winston Park and he has since grown through many roles in different Villages, from Director of Recreation to Director of Environmental Services to General Manager.
"I've had five different Village transitions and seven different role transitions in a very compressed period of time and with that comes a lot of change," Luke says. "It requires you to adapt quickly and I didn't know going into those that I had the ability to get to know people quickly and focus on those relationships."
It is the relationships among team members and residents that have always offered Luke his greatest rewards, and no matter what role he has held, those relationships have been foundational.
Terence's Story of Growth
"I'm proud to work at Schlegel Villages because it has created an amazing environment where I feel loved, respected and accepted the way I am," he says.
Hospitality is in Terence's nature, and he was a logical fit for the service of residents when he joined the Village of Arbour Trails as a front-line team member in the kitchen and dining room in 2014. His attention to detail and his desire to learn and grow was quickly apparent and he led the opening of The Ruby in the Village of Erin Meadows in 2018, creating an authentic restaurant experience for residents and guests alike. 
"My growth with Schlegel Villages as a front-line team member to a Director of Hospitality involved a lot of transformation," says Terence, who moved into the director role at Erin Meadows in 2021.
"The philosophy of servant leadership has surprised me the most, because I have taken that philosophy and embedded it in my day-to-day service as a leader in the Village," he says. "I do not walk in front of the team, I do not walk behind the team, but I walk beside the team making sure that I am supporting the team and that is why I find the Village atmosphere unique.
Dan's Story of Growth
"I've been proud to be in a number of different roles and to positively impact our residents," he adds. "Seeing that positive impact on the residents has been meaningful for me along the way and has given me a sense of life purpose."
Dan's background as a Kinesiologist has served him well throughout his journey with Schlegel Villages, helping him progress not only through the Village of Taunton Mills, where he has spent most of his career, but also through the central Schlegel Villages Support Office, where he focused on Health and Safety.
Dan has worked in several leadership roles at Taunton Mills, always eager to capitalize on any new opportunity to learn more about Village life.
"My journey is not something that's been scripted or pre-planned," Dan says. "I've moved into a number of different roles during my time here and I think the biggest part was to be flexible and have an open mind as these different roles became available.
Chris-Anne's Story of Growth
"When I think about Chris-Anne's career with Schlegel Villages," says Joanne Potts, Vice-President of Operations with Schlegel Villages, "it really comes down to a deep-seeded commitment and faith that the mission that we have and the work we are doing is making a difference in people's lives."
Chris-Anne has served the residents and team members of Schlegel Villages for more than 25 years in the Waterloo Region. She began as a newly graduated Registered Nurse in The Village of Winston Park and navigated many new opportunities there.
"I'm proud to work at Schlegel Villages because I feel part of a family," Chris-Anne says. "I feel cared for I feel that I've been invested in, that I've had the opportunity to grow and learn to become a better person professionally and personally."
She was honoured to be offered the position of General Manager at The Village at University Gates when it opened in 2015 and she has overseen the successful expansion there from Long-Term Care alone to a full continuum of care offering all levels of retirement services.