Our Becker Neighbourhood has a Story
Ron Schlegel met Barbara Becker when they were just teens attending Rockway Mennonite School in Kitchener, Ontario. They were married in the summer of 1964. Three sons followed, setting the stage for a busy life of family, work and service. Theirs would be a life of many joys and successes, but also of crisis and adversity.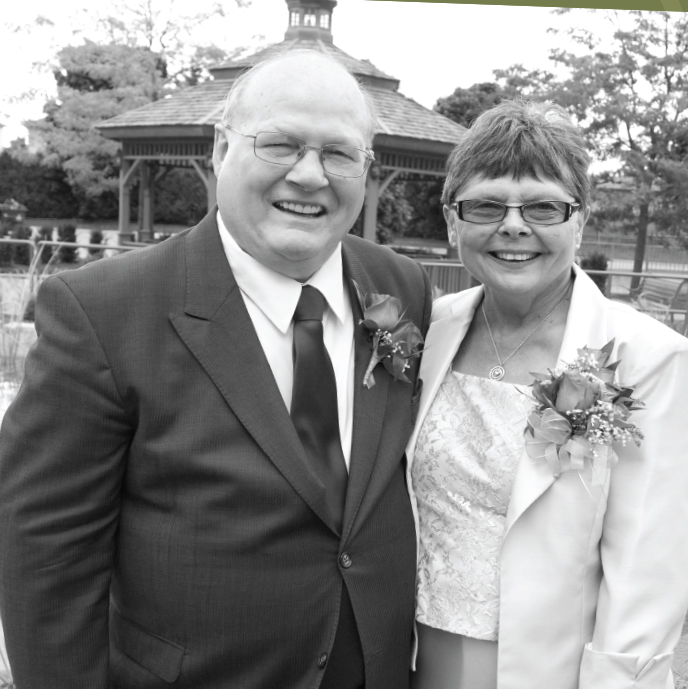 For Ron and Barb and their sons, Rob, Brad and Jamie, family is at the core of every pursuit in life. As Ron cultivated excellence in his academic career, first as a graduate student then as a professor at various universities in the United States and Ontario, Barb and the boys enjoyed the rich experiences of life in different communities.
In 1972, the family returned to their roots in Kitchener when Ron accepted a professorship in the Faculty of Human Kinetics and Leisure Studies at the University of Waterloo. In November of 1980, a major crisis confronted the family. Barb, at the young age of 39, suffered several very serious strokes. The effects of the strokes were severe both physically and mentally and Barb spent the first year post-stroke recovering in hospital. She fought her way back with determination and the enduring support of her family and close friends. Once released from hospital and for many years after, she fought through feelings of extreme loss, despair and depression to claim a new sense of independence and once again became a vibrant and active women who takes great joy in helping others.
Ron and the boys were there with her through her lengthy recovery. A testament to Ron's love for his wife, he designed and built a new family home with thoughtful fully accessible design. In her new environment, Barb began to thrive, actively supporting Schlegel Villages and other family enterprises. To this day, Barb remains a regular volunteer at the Village of Winston Park, and the lessons her journey teaches continue to inform how support is offered in all the villages.
Building environments to meet the changing needs of the people we serve is at the heart of our organization's values. Barb's story reminds us that with determination and the right supports in place, we can all continue to improve ourselves even in the face of adversity, and live a life of meaning and purpose. Her legacy can be seen throughout the Becker Neighbourhood in apartments that have been thoughtfully designed with walk-in showers, washer and dryer, modified kitchens, wider doorways and ample space and storage. It can also be found in the village design that promotes a sense of community, and in the care and services that are tailored to changing needs to enable residents to age in community, in a place that is home.