After five years of development in collaboration with some of the world's leading experts in dementia support, Schlegel Villages is preparing to launch its signature dementia program in 2019.
For decades, prevailing approaches to dementia support focused on maintaining, improving or mitigating symptoms, which inevitably dictates that a person living through such changes is at constant risk of decline or diminishment. LIVING in My Today, however, was created methodically and collaboratively with experts throughout the world to challenge this antiquated thinking.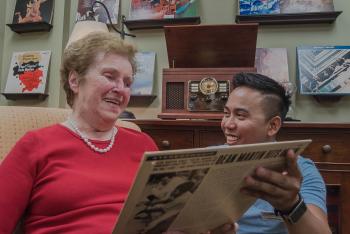 Focused on the individual's well-being in every changing moment, LIVING in My Today, pushes loss and deterioration aside to focus on what a person needs to live well in each moment. This is a great point of pride for the team from Schlegel Villages that has work so hard to create the extensive program.
"We asked people, those key stakeholder groups that are impacted by dementia in some way, what do you need to live well?" says Jessica Luh Kim, Schlegel Villages director of the resident experience. "We didn't only go to the evidence or score all of the best practices alone; we asked those who are living with dementia and they were active contributors and decision makers that informed the framework, the vision and direction of LIVING in My Today."
The program recognizes that in some residents' minds, perceptions and interpretations are continually altering, for that is the nature of dementia. It recognizes this truth, however, as changing ability, not a loss of self, and the program focuses on supporting each person as they strive to harness their strengths and make each day their best.
"We are investors in their well-being," says Heather Luth, a Schlegel Villages specialist in dementia who dedicated an immense amount of energy in the development of LIMT. "We recognize that those best days will change, because that's what dementia is, a continual changing, and that's the difference. It's about making them happy in that moment and what does it take to do that? What does it take to invest in their well-being?"
Again, people living with dementia and those who love and support them were the greatest collaborators in the program's development. Throughout the process, they encouraged the team to focus not on what is lost but instead, help people living with dementia find hope in every moment. The way a person living with dementia perceives the world may change, they advised, but the emotions, connections and values they hold dear remain central to who they are.
Beyond these key advisors, the organization looked at data collected over years, both externally and within the villages, which proves time and again that when team members are engaged in their village lives and have meaningful relationships with those they support, residents' sense of well-being and life quality rise correspondingly.
The emphasis on developing relationships and understanding the experience of those living with dementia forms the foundation to Enjoyable Mealtimes, Meaningful and Active Engagement, Empowered Care Partners, Supportive Approaches to Care and Thoughtful Design, the 5 pillars of LIVING in My Today.
Schlegel Villages would like to acknowledge the key support of community partners in the program's development, including Ontario Dementia Advisory Group (ODAG), Murray Alzheimer Research and Education Program (MAREP) and the Schlegel-UW Research Institute for Aging (RIA). 
"LIVING In My Today enables me to live the best life I can as I change," says Mary Beth Wighton, co-founder of ODAG and person living with dementia who advised on the program's development, "and adapts to my changes seamlessly and lovingly."