Aug 14, 2023 / Village Voice - Signature Programs - Living in My Today
Posted by: Kristian Partington
When the team and residents of Waterloo's Pinehaven Nursing Home moved into their new home at the Village of Winston Park in the spring of 2023, they walked into new neighbourhoods that encompassed all of the physical elements of the LIVING in My Today dementia care philosophy. Winston Park had just completed a new expansion, and the Pinehaven residents combined with Winston Park's in seven new neighbourhoods created with the concept of "Thoughtful Design" at front of mind.   
I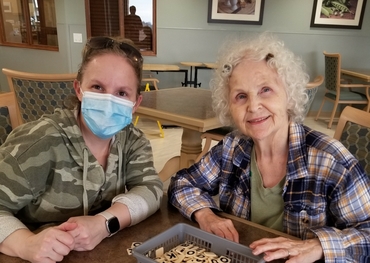 t's well understood that a majority of residents of long-term care homes are living with some form of dementia, and each individual's changing perceptions must be considered in all aspects of support. The physical space in which they live is an important part of this support, and Thoughtful Design is one of five central pillars in Schlegel Villages' LIVING in My Today dementia support program that helps make their home more comfortable and inviting.
When the physical space invites comfort, the other elements of LIVING in My Today can flourish: Meaningful and Active Engagement; Enjoyable Mealtimes; Empowered Care Partners; and Supportive Approaches.
Alyson Haffner is the neighbourhood coordinator (NC) in Winston Park's Waldau and Sandhills neighbourhoods. She's been with Schlegel Villages for several years, beginning as a kinesiologist at The Village of Riverside Glen in Guelph before becoming a NC at Pinehaven prior to the move to Winston Park. She admits that she was skeptical as she considered how the residents and team from Pinehaven would adjust to the transition to the new home, but that faded quickly once everyone began to settle, and she's seen much more engagement among residents.  
"There are a lot more residents that are now coming out of their rooms for meals," Alyson says, "as well as using the cues on the tables, specifically the colouring pieces."
It's not that residents are necessarily more involved in programing, she says, they're just out more and living in the moment beyond the confines of their rooms. One particular resident always used to sit in her room at Pinehaven, working quietly on a colouring book, but now she's in the neighbourhood regularly.
"She barely spends any time in her room now," Alyson says. "She's constantly out in the common areas and using the cues that are set up for meaningful and active engagement."
The reality is that dementia changes how people perceive and experience the world around them, but there is no "loss of self" when dementia evolves, but rather a "change in self".  LIVING in My Today supports people living with dementia as they tap into their strengths, express themselves and enjoy the comfort and security of friendships in a place where they experience acceptance and belonging.
"It's a whole different way of living and putting living first," Alyson says, and she's happy to be part of the team helping ingrain this philosophy in all aspects of care and support.