Apr 05, 2019 / Village Voice
Posted by: Kristian Partington
It was Doc (Donald) Poll who first caught the eye of a young lady named Mary Belle at a New Year's Eve dance in Kitchener, 1943. From across the hall, she winked at him and he saw it; he walked over and they began a dance together that would last nearly eight decades.
"I liked him right from the start," Mary Belle says, looking over to Doc as they sit together in a quiet lounge in their home at Kitchener's Village of Winston Park.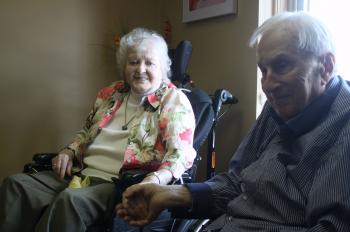 After 73 years of marriage, Doc and Mary Belle are grateful 
they are able to be together in the Village of Winston Park.
Doc walked her home that night, the story continues, and they saw each other one more time before he had to go to Ottawa. He was preparing to join the fighting in Europe with the Canadian army, and he would only have one more furlough before he sailed overseas. He spent 12 of those 14 days with Mary Belle before they said a long goodbye, and their following courtship and eventual engagement would be relegated to correspondence by letter for the next three years.
As they share their story today, Mary Belle points to a beautiful handcrafted wooden box filled with mementos and some 300 letters sent from her loving husband before they were married. She kept every one, each a treasure from an era that has long since given way to the immediacy of phone calls, text messages and social media connections.
Each letter was a new chance to get to know a little more of the man she was falling in love with, and he would look forward to her every reply in the darkness of The Second World War. Doc asked his mother to buy the diamond ring that remains on her hand today while he was away, making sure she understood to buy something worthy of the woman he wanted to marry. They gave it to her at Christmas on his behalf, and then she awaited his safe return.
The day Doc stepped off the train in London, Ont. after the war ended remains the happiest day of Mary Belle's life, she says, recounting how she and her future mother-in-law jockeyed for position to get the first kiss when they saw him.
"You've never seen such a happy crowd," she recalls. "It was wall-to-wall with happy people and we waited there for him, and waited and waited."  
She thought the train would never come to a stop as it pulled into the station, but it eventually did and he was the third person to walk out of the car.

Doc asked his mother to buy a ring for Mary Belle while he 
was overseas in the Second World War, and it still
adorns her hand today. 
"When I saw him I elbowed through the crowd and I got to him," she says with a wide smile, reaching to grab his hand, "and we've been together ever since."
They've been married for 73 years now and touched countless lives through their volunteer time with the church community they helped build from the ground up shortly after they were married. They're still a part of that church today, and their faith has been an important part of their life together, through all the sadness and joy that comes with it. Their love for each other was always most important, however, and those three years away during the war made them appreciate every day they could spend together afterwards.
"We were lonesome for each other," Doc says, thinking back to the early days and the hundreds of letters written. "I certainly was anxious to get home."
Once beside his wife, he never wanted to part from her again, and they're grateful that it wasn't long after Doc moved to Winston Park's long-term care neighbourhoods that a space became available for Mary Belle.
Their rooms are side by side and they share as much time together as they can, thankful for the decades of happiness that guided them to this point in their lives.