Thanks to Life and Times story, Winston Park Neighbours discover shared history
By Kristian Partington
Werner Oswald had barely lived at the Village of Winston Park for a week when he joined many of the residents in the town square for a Life and Times presentation – a regular event where the story of one resident's life is shared among the village. He had no idea of the connections he would make that day and the emotions that would surface as the story of Ella Comrie was told by her daughter, Joanne.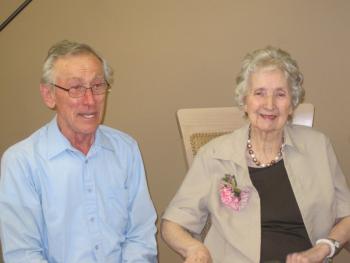 Ella was 18 when the Second World War broke out and by war's end she was in love with a Canadian soldier named Gordon Comrie of the Queen's Own Rifles out of Toronto. They'd met at a dance in 1942, wrote letters to each other afterwards and saw each other every time Gordon went on leave, right up until his deployment during the D-Day invasion in June 1944. Ella was worried sick after hearing of the invasion, not knowing whether Gordon survived or not – it would be a week before she'd learn he was safe. The next time they saw each other was early in 1945, and they were married that summer. A month after the wedding, Gordon was sent back to Canada and Ella, along with countless other War Brides from the British Isles, would arrive nearly a year later to join her husband and forge their new lives together.
Werner was a fair bit younger than Ella when the war broke out, a German living in Poland as a boy with his family. His newborn sister was mere days old in the depths of winter, 1945, when his family left on a five-month odyssey by horse and wagon to flee the ravages of war with the Russian army pressing from the east. He remembers the cold, and looking back he can't fathom how his parents managed to feed them all.
"We were always moving," Werner says. "You didn't want to get out of line and if the Russians got to us, we were told they'd kill us."
Werner's uncle lived in Petersburg, Ontario, near Kitchener, and sponsored the family's immigration – the key was they had to get to England to a boat that would carry them to their new future in Canada.
The memories of that 12-year-old boy came flooding back as Joanne recounted her mother's own journey to Canada aboard the Aquitania, for that name sticks out in Werner's mind. He was on board at the same time and, nearly 70 years later in the town square of the village he'd just moved into, here was someone who recalled the ocean breezes on those clear days crossing the Atlantic Ocean
"When she mentioned the Aquitania, I knew that was the boat we came to Canada on," Werner says. "You don't forget a name like that. It's a small world; it's not something I ever thought would happen."
Ella, the young war bride, and Werner with his family, arrived it Halifax's Pier 21 together, yet their paths would only cross again when they met at the Village of Winston Park. If it weren't for the effort made at the village to share each resident's story through the Life and Times, Werner says he never would have made the personal connection with Ella. Though her memory is not what it used to be, that connection is very real for Werner, and he was grateful to shake her hand and sit with her, once again sharing space and time together as they did decades ago.