Simone had lived at The Village of Erin Meadows for but two short months when the team and her family realized she had little time left. It is remarkable, however, to see how deep a connection can be built in such a short time, and that depth showed the day before Simone passed away when a song brought the team, family and Simone together in a moment of tender beauty.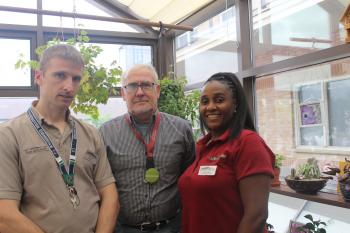 Family council president Ernie Ilson was sitting in the country kitchen with his wife Norma when he saw the moment unfold before his eyes. "This was just another example of the things that the team members do that nobody ever hears about and never makes the press," Ernie says, "but they happen 10,000 times a day."
He then describes how he and Norma watched an interaction unfold between recreation team member John Knox and a young boy – Simone's grandson – perhaps a great grandson – who was carried in the arms of Simone's son Paul. John saw the boy, pulled a harmonica from his pocket and he began to play, bending the notes to the youngster's delight.
"The little guy was amazed that this box could make this music and this guy named John could make that music sing from the box," Ernie recalls. Then Paul stopped John and asked if he could play his dying mother's favourite song, Amazing Grace. Sylverne Billy, one of the personal support workers who'd grown close with Simone in the past two months was going to sing for her, and the harmonica would be a sweet added touch.
John didn't hesitate for a minute: "I'd love to play for you," he said, not knowing exactly what was in store, but a short time later, from down the quiet village street, Ernie and Norma could hear the magic of the moment unfold. The family joined in as Sylverne sang and John played the harmonica, in all its mournful tenderness.
"It was just beautiful," Ernie says. "It was quite an emotional thing and a respectful thing happening to that family."
John and Sylverne, in their modesty, say quite simply that they were honoured to be part of the moment. Sylverne loves the people she serves, she says, always relating to her grandmother whom she was never able to care for because they lived so far apart. She pours that love into everything she does for the residents at Erin Meadows and this moment with Simone and her family was but an extension of that.  
"I really, really did it from my heart," Sylverne says. "I felt the feeling in the room; even myself I felt profound, I felt changed, I was shaking and I was nervous, but I'm really happy that I did it and made them happy. Even as I was singing I held Simone's hand and I knew that it was something that she wanted."
John could feel the weight of the moment, knowing there are few times in life with greater significance in the heart of any person as when a loved one is in their final days and moments. He paid close attention to every note, bending them just so, ensuring the beauty of the song flowed beyond any potential mistake he worried about making, and he was flawless.
"It was very meaningful," John says, "honouring the moment and paying attention to every detail, getting the notes right."
Simone died the next morning, surrounded by the love of family and The Village that cared for her. The dignity walk that followed as she was carried down Main Street to prepare for her final resting place dripped with respect and honour. The village sang for her that day, as well, and with each note it was clear how meaningful relationships can become after but a couple of short months.