Trip to Knights game brings team members and residents together
By Kristian Partington
Hockey has always been a central part of Ron Bourne's life. Whether he was playing at elite levels as a younger man or still strapping on the blades once a week well into his 70s, a hockey arena always felt like home. He travelled all across Canada playing or coaching his sons, and he would do anything he could to juggle his work schedule near retirement as a firefighter to show up at the rink and catch one of his grandchildren on the ice.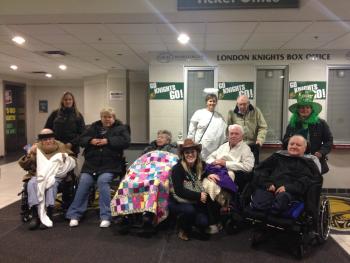 "I was just a humble guy, playing and loving the game," Ron says as he reminisces about his earlier playing days by the fireplace in the Lambeth neighbourhood lounge.
His love of the game was one of the reasons why the team at the Village of Glendale Crossing organized a trip to London's Budweiser Gardens to watch a London Knights game in late October. Ron was joined by fellow village residents and team members spanning a cross-section of village life, from recreation to dietary to nursing. As Ron talks about his love of hockey, it's clear that while he may not recall specific details about the recent game he attended, his memories of earlier days on the ice are as sharp as ever. He drops the names of those he battled alongside and against and talks of championships games as easily as he describes juggling work as a firefighter with his on-ice passion.
Village chaplain Maureen Dwyer attended the Knights game and sat with Ron. As a true Knights fan she was more focused on the home team and one point, Ron leaned over and mentioned an opposing player who played with adept skill. "He was very much in tune with what was going on in the game," Maureen says. "It was a blast."
She says an evening out such as this allows residents to experience something they probably did regularly in their younger lives, just as they always had. The staff at the arena was extremely helpful, she adds, and Ron's son, Al – a season's ticket holder – was able to join the group and enjoy a good portion of the game sitting with his father.
"We did a lot of that," Al says, looking back to growing up in a hockey family. He says to enjoy it again with his dad was a real treat.
"I thought it was fantastic," he says. "I was a little unsure whether he'd be able to make it or not, but hockey has been his thing since he was a kid. It was really nice to get him out there."
For Maureen and her fellow team members, the experience allowed them to share quality time with residents in a different capacity than they're used to. "I get to interact in a different way with the residents and they get to see me as somebody besides the chaplain," and it was the same experience with the other team members. There were no job titles or schedules; it was just a hockey game shared among friends, Maureen says, and that's the way it should be.