Mar 11, 2020 / Village Voice
Posted by: Kristian Partington
Caring for and supporting an aging population with complex health needs will require dynamic and adaptable community efforts, and there is no shortage of challenges when seeking the best new ideas.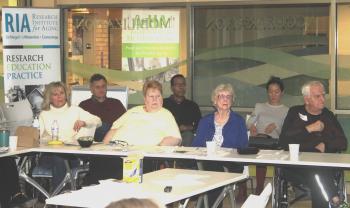 A wide variety of Villagers are part of the
Partners for Innovation advisory board. 
Schlegel Villages and its partners with the Schlegel-UW Research Institute for Aging (RIA) have long understood that innovation will play a vital role in addressing the needs of older adults now and into the future, especially at a time when the long-term care sector is facing a shortage of quality team members to care for residents.
In 2018, The RIA and Schlegel Villages received funding through the National Research Council of Canada Industrial Research Assistance Program (NRC IRAP) to create a pilot project that would link an advisory board of residents, family members, researchers, and team members – Innovation Catalysts who are helping drive positive change within their respective villages – with entrepreneurs developing solutions that have the potential to impact age-related challenges. The project was called Partners for Innovation.
The Partners in Innovation final meeting was held on Feb. 5 in the RIA's Centre of Excellence, right next to The Village at University Gates in Waterloo. The gathered advisory board first heard from AIH Technology Inc. about a new facial-recognition technology aimed at mitigating the risks of a person living with dementia leaving a long-term care home unnoticed. They also heard from a Canadian representative with the UK-based company, MySense, which utilizes a series of individual sensors placed throughout a living space to determine a person's typical daily routine and predict when their health is compromised based on detectable variations in that routine.
Both concepts were intriguing and following the presentations, the advisory board offered a series of questions and suggestions based on their experience living and working in long-term care and retirement.
Brenda Brenner says she tries to be involved in as much as possible at University Gates, where she has lived for some 18 months. She chose to join the Partners for Innovation advisory board because she is interested in what the future might hold in terms of technology, and she also believes there are physical and mental benefits to exploring the topic of innovation.
"You never know," she says, "some of the things they are coming up with are very interesting . . . and it's important to keep your mind working."
It's also important that start-ups and entrepreneurs, such as those represented at this meeting, hear from the people who will be most directly impacted by their products or technology, which is the main objective of the pilot program, say Lora Bruyn Martin, Innovation Specialist with Schlegel Villages.
These early conversations involving older adults, their loved ones and the teams that support them "is a change from the typical 'solution-looking-for-a-problem' dynamic we so often have with vendors," Lora says. The practical experience of those who live in the face of challenges every day must be factored into any solution.
When it comes to innovation, however, not everything requires a new, breakthrough technology, which is why the Innovation Catalysts at the Village level are so important. New ideas to address old challenges emerge all the time, and a network of people sharing such ideas will make a difference. Schlegel Villages and the RIA will again be hosting their annual Innovation Summit in Kitchener June 10-11, where researchers, team members, residents and loved ones will get together to share ideas in the name of innovation. Anyone connected to Village life who is interested in research and innovation are welcome to participate. Contact Lora at lora.bruynmartin@schlegelvillages.com for more information.
---