Jan 09, 2020 / Village Voice
Posted by: Kristian Partington
Palmer MacLeod is sitting in the country kitchen in the new Emma's neighbourhood in The village of Taunton Mills, the smell of fresh laundry in the air as his daughter Doris runs a load through for her father.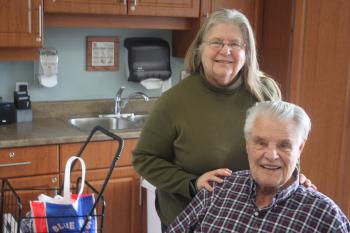 A random morning as Doris helps her father with laundry is
the perfect time for stories of adventure.
I sit alongside Palmer and introduce myself. His smile is warm and welcoming – it turns out he's from "The Island" and when I discover this, it makes sense. Anyone I've ever met from Prince Edward Island has only ever been warm and welcoming, and conversation always flows naturally.
It's the same with Palmer.
We start with small talk and quickly end up diving into his work history. He worked for the Toronto Transit Commission for nearly 50 years, he tells me, and he says he liked driving the busses because he enjoyed meeting people, which is certainly no surprise. I try to imagine watching a city grow over the course of half a century from behind the windshield of bus. Such change. It turns out that before he delivered people through the city, he delivered freshly-baked bread by horse and wagon for Canada Bread. Doris reminds him of this fact when she returns to the kitchen. Horse and wagon deliveries ended in the city in the late 1950s and Palmer says he was the last of them.
Palmer has lived at Taunton Mills since 2012, when he and his wife moved into the independent apartments in Becker neighbourhood. After she passed away, he moved to a smaller suite, and he remained there until just recently. 
In early 2019, Doris noticed her father's needs were changing. He needed to be reminded of more things more often, it seemed, and she thought that with the third phase of retirement neighbourhoods slated to open at the end of the year, it might be time to consider a space in Emma's neighbourhood. This is where people living with the changing perceptions that come with dementia are best suited, and Palmer seems quite content now since moving in shortly after the new neighbourhood opened in December.  
Dementia is a wide-sweeping umbrella term that encompasses many changes in the aging mind, and it's as unique to each individual as their story. If you see 'dementia' first, then you risk missing so much more. Palmer may need reminders of some things sometimes, but as he shares stories from the past, he has almost all the details right, and he's a natural storyteller.
With Doris's prompting questions he regales me with family lore. When his father was just 17, he ventured from PEI through the United States alongside Palmer's then 16-year-old aunt, eventually ending up on a ship from Seattle to Skagway, Alaska. They were in search of Yukon gold, and would later tell stories of their time in The Yukon and Northern British Columbia fit for a Jack London tome. On that first trip, Palmer's father and aunt had to hike over the treacherous Chilkoot Pass beyond the mountains that separate U.S. and Canadian Territory. At the dawn of the 20th century, their adventures must've been epic.
Almost an hour passes easily as stories like these are shared, each tinged with a little east coast charm. Then I ask about Palmer's time at Taunton Mills and he says he's happy here: "It's suited me good," he says with a smile. The people who support him and his fellow residents here are "good people," he adds, after a recreation team member comes by to offer him and Doris a fresh cup of hot chocolate, and Doris nods in agreement.
It's Alzheimer's Awareness month and I've come to Emma's at Taunton Mills this morning to learn more about LIVING in My Today, the philosophy that is reshaping the entire Schlegel Villages approach to support for people living with dementia, in all its many forms. At its core, the program is about meeting every person, no matter where they are in their journey, where they are in the moment, and Emma's neighbourhoods are where the stage is being set for all villages.
I've met Palmer and Doris in a perfect moment, with winter winds blasting snow outside while they sip on hot chocolate topped with whipped cream. Dementia isn't even a consideration, however, for all I hear are stories of adventure and lives lived well, and I'm thankful I came in.