Feb 04, 2020 / Village Voice
Posted by: Kristian Partington
When the exercise therapists and kinesiologists who support the Program for Active Living within Schlegel Villages gathered in September, they discussed ideas to highlight the upcoming Active Aging Week, marked internationally during the first week of October.

Lucia D'amico is motivated to stay strong and independent 
through regular exercise, and the Cross-Canada Challenge
is a great motivator at Aspen Lake. 
Aspen Lake's Ryanne Stieler noted that this is the same time of year Canadians remember the valiant efforts of Terry Fox in his quest to run across the country to raise awareness and funds for cancer research. Every year, schools and communities pick up the iconic young man's mantle and honour his memory, so it struck in Ryanne's mind that a cross-country trek might also inspire the residents she supports at Aspen Lake.  

Aspen Lake's Pavao Gagrica upon the NuStep machine with
kinesiology student Claire Tofflemire.
In their combined efforts in the Village Gym, residents were taking upwards of 15,000 steps a day upon the NuStep machine, Ryanne figured, so the idea of the challenge was born – they would map their progress and follow a route from St. John's to Vancouver. The beauty is that every resident, regardless of their capability, is able to contribute to the effort and participation has been strong since they started in the fall. Everyone enjoys following the map, Ryanne, says, knowing they're making their way across the country.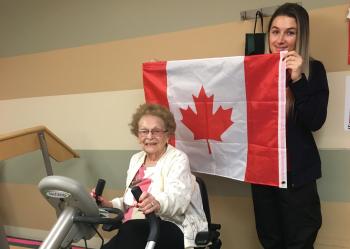 The beauty of the Corss-Country Challenge is that every resident,
regardless of their capability, is able to contribute to the effort.
"The walk helps motivate me because it gives destinations," says Lucia D'amico, one of the regular residents in the gym who comes as often as four times a day. "I feel like I can really go somewhere." Lucia is motivated to exercise, she says, because she lives with Parkinson's disease and she wants to remain as strong and independent as possible. "I am afraid that if I stop, even for one day, I won't be able to do it anymore."
Her fellow resident Eleanor Sfalcin agrees that regular exercise is one of the greatest gifts people can give to themselves. "Exercising every chance you get keeps you strong and healthy," she says.
Eleanor suffered a fractured shoulder in October in a car accident, Ryanne explains, and "after only a few short months she is back to coming down almost everyday, and she gives it her all every single time."
Eleanor is also motivated by the progress the Village is making and her family is often in The Village to offer their encouragement. Ryanne says Eleanor and Lucia are two of the biggest step contributors to the Across Canada Challenge and "they are big inspirations in our Fitness Centre."
As of late January, the Village was arriving in Edmonton in preparation for entering the last province and the residents are going strong.