One may never know how the life of their loved one touched the lives of others, especially when they live apart. For those with connections to the Village of Aspen Lake, it's often only after a neighbour has passed that their loved ones come to understand. During a memorial service, they are offered a handcrafted ceramic memory bowl, created by neighbours and filled with their thoughts and those of team members, and the impact comes to light.
"People don't really know about it until they get there for the memorial service and they find that they're receiving another gift from Aspen Lake," says Betsy Fraser, who as part of Family Council saw many such services. "There is this beautiful service, which is done by pastor Bruce (Jackson), and then a white rose and a memory bowl. Each person is called up on their own, and some people are very, very emotional about it."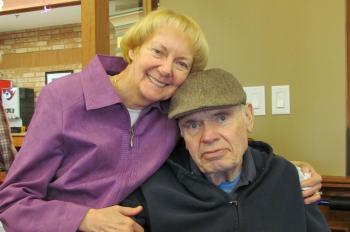 When it was her turn to receive such gifts, she could barely contain her emotion.
Betsy's husband Alex lived at Aspen Lake for almost eight years. She spent eight years visiting him nearly every day; eight years growing close with a consistent team of care partners that barely changed, a neighbourhood of residents and their loved ones who visited as often as she did.
She became an integral part of The Village and a regular fixture upon the Family Council that helped advise the team in their constant quest to support their neighbours.  
When Alex died in mid-2018, she ached for the loss of not only her lifelong companion, but also the friends she'd come to know in nearly a decade of Village life and the family they had become. She was no longer in The Village every day and she missed the atmosphere immensely. She knew she would become a volunteer, however, but needed time to process in those early days of mourning.
When she returned for the memorial service to honour Alex and the other neighbours who had passed in the same period, she once again felt the beauty of The Village flow to her. "Your heart just stops for a minute because you think 'Gosh, they've done all of this for me,' " Betsy says.
"We're family," she says. "I was so lonely for that place when my husband died and I became a volunteer and I knew I was going to do that because I loved Aspen Lake so much."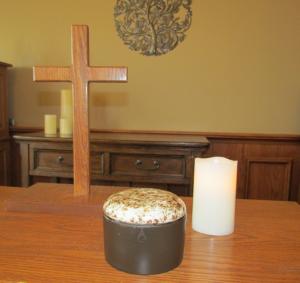 Bruce says he often will see families gathering together after the service to read through notes offered inside the memory bowl, and it's a moving experience every time – a beautiful aspect of a painful period of time.
"It's about being able to say goodbye without saying goodbye," Bruce says. "It's more like 'see you soon.' "
In the community centre rests a memory bowl created for a neighbour who died recently, yet had no family to receive the messages. The thoughts sit now with The Village that became his family.
"I love the way you would always say: 'I thank you,' "reads one note.
"I will always remember seeing him on Main Street and he would ask me to get him bread and a side of ketchup," reads another. "When I would get it for him, he'd have the biggest smile upon his face and be so thankful."
"He always greeted me with a smile and his smile made my day."
Small things can have a large impact and within the small ceramic memory bowls created at Aspen Lake, the impact of the extended Village Family is shared in heartfelt gestures of kindness and support.