When the final votes were tallied and the judges offered their insights, the chefs from Schlegel Villages won the title of 'Most Creative Dish' at the Cardiac Health Foundation of Canada Healthy Hearts Chef Challenge on Feb. 7 in Toronto.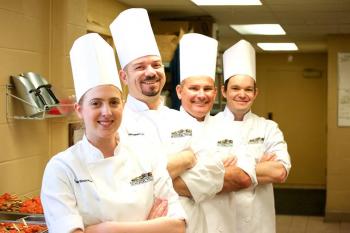 The event brings culinary artists together from several different retirement living providers to showcase their talents and highlight the healthy menu options the chefs are proud to offer the residents they serve. The Schlegel Villages team, led by Arbour Trails hospitality director George Madalena, included chefs Caitlin Boucher, Kevin Hughes and Jesse Seguin. Caitlin, representing the Village at St. Clair in Windsor, added a long-term care perspective, highlighting the fact that it's not only residents in Schlegel Villages' retirement neighbourhoods that receive a chef's dedication at mealtimes.
Caitlin worked in fine dining for a few years before realizing she had more to offer. She studied social work with a focus on gerontology and, not long after graduation, was one of the first team members hired when St. Clair opened. She now comes at her work as a chef with a deeper understanding of the long-term care residents she serves, and loves the fact that in her village, she has plenty of opportunity to interact with and get to know each resident. That is the care and support Schlegel Villages offers, and Caitlin says it was nice to share that perspective with other chefs from different retirement communities at the Chef's Challenge.
"It was very relaxed and we were able to socialize and meet people from the other teams," Caitlin says. "It was competitive, to some extent, but it was nice talking about the different types of homes and what they were working on and what they're focusing on."
It's clear that quality is important to all who participated in the event, and the dedication of all the teams says a lot about how the culture of aging is changing to offer residents in long-term care and retirement settings better quality of life. Food, in Caitlin's mind, is central to this improved quality.
"Food is one of those things that means something to everyone," Caitlin says. "It's important to try to customize. It's about getting to know the neighbours' (residents') preferences and if there's some small way you can make it a better experience for them, I think that's worth it."
The Chef's Chellenge helped highlight the importance of creativity and open up new ideas about what's possible in long-term care and retirement kitchens, and Caitlin was was proud to participate. Of course she's also proud to have helped create the Grilled Tandoori Chicken with Rice & Cucumber Raiti that won the title of most creative dish.
A little healthy competition, it seems, is also good for the heart.
Click here to access the winning recipe.