May 27, 2021 / Village Voice
Posted by: Kristian Partington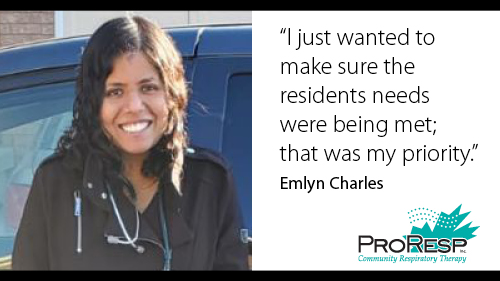 The moment Emlyn Charles first took over Erin Mills Lodge in Mississauga as a ProResp respiratory therapist, she felt welcome.
"Right from the get-go, they were interested in knowing me, knowing what I do and how they can better assist me," Emlyn says.
It wasn't just the clinical team that made her feel this way – it was everyone, from the housekeepers and PSWs to the village leaders – "everybody was right away available to help me if I had any questions or concerns and I felt very comfortable with all of them," she says.
Which is why Emlyn was so comfortable supporting the team and residents during a challenging outbreak in the first wave of the COVID-19 pandemic that began in April, 2020.
"It was a challenge, for sure, but I think it was definitely made easier by the staff at Erin Mills Lodge," Emlyn says. "I just wanted to make sure the residents needs were being met; that was my priority."
She went from typically visiting the home a few times a month to visiting multiple times a day all week long during the height of outbreak, providing support for the team and looking after the respiratory needs of residents facing an illness that was still very much unknown.
She points out that within her scope of practice, there were only certain things she could do, but she was grateful to provide whatever she could any time day or night.
And there was never a hesitation, neither from her or any of the other ProResp therapists. As an organization, ProResp has worked alongside Schlegel Villages for more than 20 years and, like family, their team was eager to support in times of need. Emlyn says she has always known how deep the relationships between the team members and residents are, but she gained an even greater appreciation for it during that difficult time.  
It's something she and her fellow therapists carry forward in their roles, trusting the relationships they build in order to offer the best service possible for residents. In doing so, the entire Village community stays strong, in both the good times and challenging periods.
"The care and service provided by Schlegel homes is exemplary," Emlyn says. "All the staff members I have met thus far are hardworking, selfless, and caring individuals. It is clearly evident that our most vulnerable members of society are getting sincere, individualized, and compassionate care at Erin Mills Lodge."