At least once a week for the past two years, Amanda Jones would bring her cats to work in The Village of St. Clair for part of the day so they could spend time with Dorothy, a neighbour who lives in the Kingsville neighbourhood.
Dorothy generally keeps to herself, but has always enjoyed the company of animals. The saddest part of moving to the Village was parting with her beloved dog and Amanda placed herself in Dorothy's shoes immediately when she moved in, sensing the depression and sadness that would follow. Bringing her pets in to visit was a way to lighten that burden, and Dorothy's eyes would brighten when she knew it was the day they would arrive.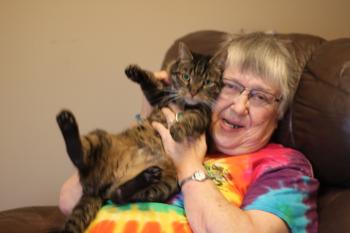 It wasn't enough. In recent months the team could see the burden of depression growing heavier upon Dorothy; she deserved to have a pet of her own, Amanda thought, someone to love and fill the void that had grown deeper since moving to The Village.
"My job in recreation is to provide meaningful activities," Amanda says, "not just invite her to a group activity that she won't necessarily be involved in when she could have something that she loves and cares for and brings meaning to her life. To me there was absolutely no reason, as long as we helped her with certain aspects of care, that she wouldn't be able to handle having her own pet."
The Village team agreed and in late November, they went to the Humane Society in Windsor to picked up Trac, the perfect cat for Dorothy. He is calm and docile, perfectly content to relax beside Dorothy in her room while she is there and patiently awaiting her return when she ventures out.
Dorothy couldn't be happier.
As Trac sits upon her lap in the quiet of her comfortable Kingsville room, Dorothy talks openly about her lifelong struggles with depression. There were times it was quite bad, and she knows it was hitting her hard in recent months.  The commitment she made to her new friend has been a great blessing, and her happiness shines.  
"I'm kind of a loner," Dorothy says. "I've not been that way all of my life, but I am now, and Trac keeps me company." She's always found comfort beside animals, she says. When she was young and something upset her in the night, for example, she'd find a sense of calm contentment beside the family cat.
Trac represents that same feeling for her today, and she says the fact that Amanda and the team supported his arrival in her life means the world to her. "It makes me feel so good," she says.