Schlegel Villages welcomes newest member to the family
For the past 13 years, Mary Whalen has supported the team at Mississauga's Erin Mills Lodge as the long-term care home's administrator and, without hesitation, she'll tell you the greatest strength she sees every day is the way the team cares for each person they support.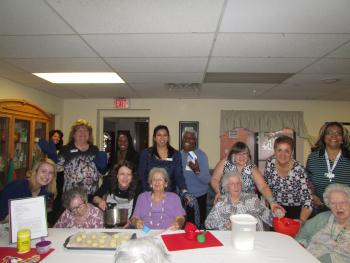 The genuine compassion and love team members offer the 86 residents who make their home here goes far above and beyond any job description of a caregiver, Mary says, and this translates into strong, relationship-based support. It's for this reason that Mary is filled with excitement when considering the new future of Erin Mills Lodge as part of the Schlegel Villages family. The values that guide her team are also firmly entrenched within Schlegel Villages, she says, and the initial apprehension she first felt when she heard the news that she'd be working with new owners quickly evaporated as she met new team members.
In mid-December, Mary was part of the Erin Mills Lodge team that participated in the Schlegel Villages 'traditions' orientation training offered to all new team members in every village, and that experience further solidified her appreciation for her new team.
"The strength is this idea of putting the residents first," Mary says when asked to describe her understanding of Schlegel Villages. "This falls right in with how we feel." As of Jan. 1 these values are officially combined making Erin Mills Lodge the 16th village in the Schlegel Villages organization. Now, the process of blending talent knowledge and compassion begins in earnest.
"This is an opportunity for us to welcome this team into our family of villages and to learn from what they do so well, because the learning always goes in two directions," says Schlegel Villages CEO Jamie Schlegel. "If we believe as strongly in our mission and vision as we say we do, then why wouldn't we want to make it available to more seniors in communities across the province."
Schlegel Villages chief operating officer Paul Brown points out that the organization is very intentional when it comes to expansion and, after a thorough and concerted effort, the quest to find the right fit finally led to Erin Mills Lodge. Like Schlegel Villages, Erin Mills Lodge has been a family-owned and operated enterprise for many years, and Paul suggests that this is one reason why the values seem to align so well. 
"It's a great opportunity for us to partner with them because I think some of the cultural things that the Erin Mills Lodge team fundamentally believes in are really aligned with us as an organization," Paul says. It's a culture that places a high premium on the value of authentic relationships between care partner and resident, he adds, and when it comes to creating opportunities for residents to enjoy the highest quality of life possible, Erin Mills Lodge and Schlegel Villages stand shoulder to shoulder.