Jul 29, 2021 / Village Voice
Posted by: Kristian Partington
When Bryce McBain, General Manager of The Village of Riverside Glen, asked for a moment of silence to reflect upon the people whose lives were lost to the impact of COVID-19, whether directly through infection or the compounding factors restrictions placed upon so many people, the only sound was the waterfall in the Village's courtyard and the splash of the odd tear drop upon the ground.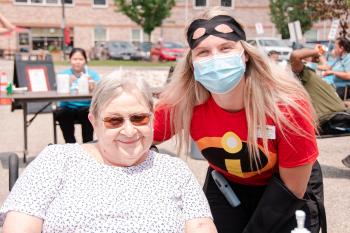 Residents and team members at The Village of Riverside
Glen marked 500 days since the pandemic was declared
with reflections on a difficult past and hope for the future. 
On July 28, The Village of Riverside Glen marked 500 days of struggle against the greatest heath crisis the world has known in a century. To call it a celebration would be a complete misnomer, though there was a feeling of spirits lifted as music filled the air and residents, team members and families safely danced and sang together in the courtyard.
The Village chose to recognize the milestone with 10 days of wellness for team members that have given so much of themselves in the face of immense struggle. From sessions focused on compassion fatigue or nutrition to four days of group conversations for team members and leaders, facilitated by trauma-informed specialists with CAST Canada, the Village recognized the emotional toll the past 500 days has taken upon people. Leadership recognized that while many have called the frontline caregivers of the healthcare system 'heroes,' many of those caregivers don't feel that way. They were scared or they felt like imposters when people used the term resilient to describe them when, in reality, that caregiver felt like crumbling under the burden they carried.
"I know some of our team members throughout the pandemic did not feel like superheroes, said Bryce. "I don't know too many superheroes that do. It's just when they get hit, they get up and with the courage to move forward again, but you are all superheroes in the eyes of myself and in the eyes of our leadership team and in the eyes of our Schlegel Villages family, and I'm sure of the residents that surround you today."
Bryce not only supported his Village throughout some difficult outbreaks, but he also supported the Village at St. Clair in Windsor when a significant outbreak struck there in early December, 2020, which affected dozens of team members and residents. His struggle was real but, like countless leaders and team members across the organization, he stepped into every role, lived in hotel rooms away from his family, held the hands of people in their final stages of life, cried and mourned, then did it all again.
For many in the wider public, the pandemic was reduced to numbers in media reports – case counts, positivity rates and deaths among the vulnerable in our communities with immune systems already compromised by underlying conditions and age.
"When most people talk about the pandemic or COVID-19, they want to talk about case numbers," said Schlegel Village's vice-president of operations Joanne Potts, who supports eight Schlegel Villages across southwestern Ontario, including Riverside Glen. "They want to talk about the number of people who have taken a vaccine; they want to talk about things we could've or should've done differently, or sooner, or sadly, they want to talk about the loss of someone in their lives.
"Those things are important, but they are not the whole pandemic story," Joanne continued. "The last 500 days have brought so much challenge and change and has touched every single aspect of our lives, but I want to reflect on a few ideals that have shone brightly."
She then brought up the word perseverance, asking her audience to consider what it means to fight anything for the course of 500 days, even as we know the threat of COVID-19 still looms.
"It takes courage, determination, and it takes adaptability," Joanne said. "When I think about all of those ideals together, the word perseverance describes them so well."
The team members, residents, family members and community partners have persevered from Schlegel Villages and the entire healthcare sector have persevered and must continue to do so. The day of recognition at Riverside Glen was as opportunity to honour this reality and reflect upon the struggles of the past.
But it was also a change to look ahead with hope in the hearts of many.
"We're hoping today is a turning point and it's a milestone that we will remember," Bryce said after the moment of silence, quivers of emotion upon his voice. "The past 500 days were hard, but we have hope to move forward."
Karen Norris, Assistant Director of Nursing Care at Riverside Glen, shares her views on the past 500 days in this powerful message.