May 12, 2023 / Village Voice
Posted by: Kristian Partington
May 12 is International Nurse's Day, set aside each year on Florence Nightingale's birthday to honour and recognize the immeasurable contributions nursing professionals offer their neighbours every day of the year.
"We are so grateful for the care you provide our residents and the clinical leadership you provide to our neighbourhood teams," wrote Jamie Schlegel, president and CEO of Schlegel Villages in a Nursing Day message. "Your contributions are so vital to the successful implementation of our mission, which is to create caring communities with life purpose for each villager."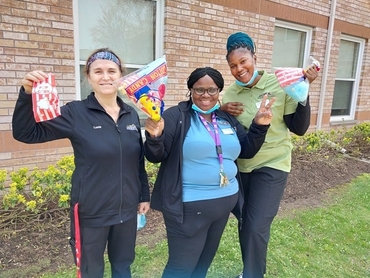 Schlegel Villages goes far beyond recognizing the incredible nurses, however, for every team member plays a vital role in the care and support of the residents who call a Village home, which is why across the organization, Caregiver's Week celebrations have been underway.
On Wednesday, for example, an outdoor carnival at The Village of Riverside Glen brought residents, families and team members together on a beautiful spring day to laugh and share joy together. "We shared lots of food, fun, laughs and music with our team members and residents alike," the Village shared on social media. "This event is always one we all cherish the memory of!"
At Hamilton Continuing Care, personalized gifts were handed out on Monday and each day to follow held something special for each team member. Every Village took the Caregiver's Week celebrations in its own direction, and residents and families also shared their appreciation.
Elena Bastos, a PSW at The Village of Humber Heights, described the heart of the caregiver when she simply said: "if you are not working with love, you should not work."
A fellow PSW at Humber Heights, Slava Kopach spoke of caregiving in the Village as one does inherently with loved ones at home. "It's not like a job," she said. "It's like family. I care for many other people like I care for my mother – I love my job!"
Across the organization, this is a time to recognize the special housekeepers who help create a safe, comfortable space for each resident, understanding through their connections the preferences each individual holds. The dietary teams, that are so central to each residents life and put love into the meals they serve; the recreation teams and the kinesiologists and exercise therapists, whose creativity brings spark to the neighbourhoods; the PSWs who offer personalize care with compassion and kindness; the admin teams that keep the Villages moving; the hardworking people in laundry and environmental services; the leadership teams, who serve not only the residents but every person in every neighbourhood: it truly does take a Village to care and this week, every team member has been honoured for their dedication.
It's an appreciation that knows no bounds, and carries on throughout the year.