May 04, 2021 / Village Voice
Posted by: Kristian Partington
As February of 2020 melted into March and Stephanie Payne flew from Victoria B.C. to Toronto to support her parents Morgan and Diane after her father's health took a troubling turn, she would never have predicted the difficulties that lay ahead.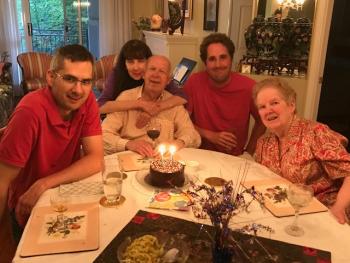 In a time before COVID, the Payne family gathered. Now, an
extended family at Humber Heights helps care for Morgan Payne.
Her temporary trip, launched just before Ontario's first state of emergency and the creeping first wave of the COVID-19 crisis began to come ashore, has stretched to nearly 14 months. It's mid-April of 2021 as she talks about the concerns and fears she harboured for both of her parents then, and the role The Village of Humber Heights has played in helping to alleviate them.
Stephanie arrived in Toronto on March 5, 2020; when the lockdown came into effect less than two weeks later, homecare supports were pretty much off the table and she and her mother did what they could to support her father. Then an infection struck in June, which forced a hospital stay where her father acquired COVID-19 on top of his other ailments. Isolation compounded upon other issues, though he managed to beat both infections, but, as Stephanie says, "coming out the other side of that, there really was further deterioration."
Morgan was fully mobile before he went into hospital but, by the time he had been resolved of COVID-19 and the hospital wanted to discharge him home, he required full care that neither Stephanie nor her mother were able to safely provide. Worse still, he had resolved but still tested positive for COVID-19, which meant at the time there was nowhere that would accept him and home was not an option.
"We were sort of in no-man's land," Stephanie says. "Even trying to get him to physio to try and gain back some of what we had lost just wasn't happening, and we weren't allowed to visit."
He was stuck in a system that was grappling with the ramifications of a virus experts were still trying to fully understand. Stephanie and her mother kept advocating for regular testing, knowing that a negative result was the only way he would be able to transfer to long-term care, and when that finally happened in September, The Lambton neighbourhood at The Village of Humber Heights was their first choice.
"With Humber Heights, it has just been amazing," Stephanie says. "Every single person – every touchpoint – has been exactly that respect, dignity and compassion. It doesn't matter who we interact with, they're wonderful."
As essential caregivers, Stephanie and her mother are in the Village practically every day offering support and she knows, simply by her father's reaction when he hears a particular team member's laughter, the love and care he receives is around the clock, not simply for show when they are in the Village.
"One of my Dad's PSWs that looks after him on a regular basis, Nellie, I remember so many times he could hear her laugh in the hallway as she was coming into the room and he would just light up," Stephanie says. "You can't fake that; that's a genuine connection and I'm ever so grateful for the care and the compassion and the respect and dignity that they've brought to a very difficult situation."
That care extends to the whole family, Stephanie adds, for that is what she sees Humber Heights as – and extension of family, and both she and her mother find great comfort in knowing that extended family is caring for the one they love most.
"We had some very dark days," Stephanie says, recalling a later transfer to hospital in October where the care her father received was much less than at Humber Heights. She thinks of the team at Humber and the genuine concern they all shared. "My mother and I are ever so grateful for the prayers and kindnesses of (team members) Nellie, Zeta, Greta, Beauty and Li, in particular. They were caring for their papa too.
"Every day I walk into Humber Heights, I feel the support of our extended family, and in these times with the headlines about long term care, I trust and appreciate the attentive and compassionate care my father receives at Humber Heights. Even the screeners always ask about my father, about our visit, how we are doing. Humber Heights has a culture of caring that touches every person and role. Everyone, no matter what they do, has the opportunity to reach out with a kind word and Humber Heights lives it every day."