Tool helps residents assess the benefits of regular exercise
By Kristian Partington
Bill Munns grew up as a farmer in Western Canada in a time when the human body was still one of the most important machines on the farm. Exercise and fitness wasn't something you had to plan for; it was simply a natural part of every day life.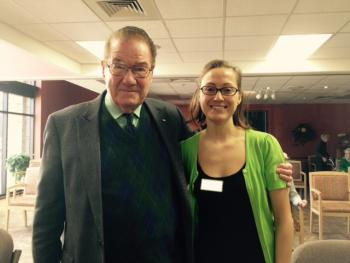 Bill and Dagmara at the Village of Humber Heights.
"I have walked every day since I was born," Bill says while discussing his approach to fitness as a man in his late 80s. "I was fit right from the beginning."
His wife moved into the village of Humber Heights in 2009 and lived there for three years before her passing in 2012. "By that time, I got hooked on the place and I've never really left it since," Bill says.
The fitness programs caught his attention right away, and he was especially attracted to the idea that he could track his progress in terms of increasing strength, balance and agility through the Schlegel Functional Fitness Assessment (SFFA) offered to all new residents upon arrival. The tool, developed in partnership with the Schlegel-UW Research Institute for Aging (RIA), uses wireless technology to assess a person's balance, sway, strength and flexibility. The kinesiologists and exercise therapists in the villages are then able to tailor their efforts to meet the individual needs of each resident. After a year, the team revisits the assessment to assess where improvements or declines have occurred.
In his professional life, Bill was an engineer, and it's no secret that assessment tools such as this tickle many an engineer's mind, so Bill has been invested since the first moment he participated.
"The most important thing is seeing progress," he says.
"At 88, I need to exercise every day. I feel better with exercise than without it, so it's a natural for me, and being a research engineer I'm always interested in research."
As the kinesiologist at Humber Heights, Dagmara Klisz works closely with Bill and she says he's a prime example of why the SFFA works. "He did the assessment last year and this year, after being involved in all the PAL (Program for Active Living) programming very intensely, we can see through that assessment the improvement, and he improved in all the measures, significantly."
It's also a reaffirmation of what many people know anecdotally – that regular exercise is a critical aspect of healthy aging. In Bill's case, he went from a 'needs improvement' status in most cases to above average and very good.
Most often Dagmara will see slight changes in people over time or they will simply maintain their scores, so Bill's progress has been very encouraging. "He's not afraid to try anything," Dagmara says, "and he's consistent."
That commitment, Bill says, is deepened when his successes are so clearly visible, and in his mind that is the strength of kinesiologists like Dagmara and the tools they use to monitor progress among the residents.