Ten centenarians celebrated for their countless gifts to Canada
They come from all walks of life, these ladies who are honoured today at the Village of Humber Heights. They trace their roots back to places like Jamaica, Manitoba, England and, of course, Toronto. Collectively they've watched more than 1,000 years go by.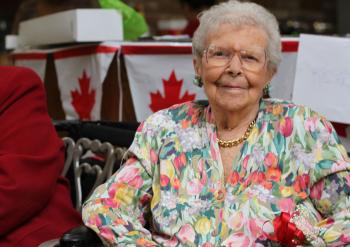 The youngest of the 10 was born 100 years ago while the oldest is nearly 105 years old. Their memories span touchstones across the globe and they share a fondness for each one. Dates and times may be a bit fuzzy when they share their stories, but the remembrance of the happiness and love that filled their long lives will always remain close to the heart.
They were singers, dancers and seamstresses, real estate agents and pioneers in the business world at a time when few women stepped foot in that male-dominated realm. They gave love to their families and communities and they've seen all the triumph and turmoil that comes along with a life lived well. They've seen war and poverty, struggle and sorrow, and they've overcome it all with grace, beauty and a sense of humour and optimism well worth admiring. As Canada prepares to mark 150 years of confederation, the Village pays tribute to those who've watched the nation grow upon the world stage for 100 years or more. 
The confidence and elegance the centenarians have in common is what shines through as Kathleen McBrien shares a few of her countless memories and stories. She talks of crisscrossing the country with her husband, Harry, who was appointed by the first commissioner of the Canadian Football League to oversee the organization of the annual Grey Cup championship game. She talks with pride about the beauty of the people she met across this land, of a poor kick-off by then Prime Minister Pierre Trudeau, before mentioning that he made up for his lack of football prowess with his charm as she later danced with him one evening upon Parliament Hill.
Kathleen embodies the spirit of optimism and positivity that each of the honourees shares and she credits that attitude with carrying her to life as a centenarian.
"You never give up," Kathleen says. "We had a lot of things to throw you back and hold you back, but you don't, you never give up, you keep going. Why give up if you don't have to?
She says too many people stop living life because they mix age and ability, deciding at a certain age they must stop. That is a mistake, Kathleen, says.
"You should be grateful for every day that you breathe and you eat," she says. "As soon as you start to get morbid and miserable, then you go down. I'm always very upbeat, and I've had an awful lot of sorrow, but you've got to rise above it and realize that life goes on."
Kathleen and her fellow honourees share common feelings of gratitude for the comfort and acceptance Canada has offered throughout the decades, though they've seen it change in too many ways to count. There's peace in this land, and opportunity, and in 100 years or more they've learned just how much they've appreciated the many blessing they've been offered in this life.  
Click here to read short profiles of each of the honoured Humber Heights residents.