Jun 07, 2018 / Village Voice
Posted by: Kristian Partington
Shortly after it was announced that the Right Honourable David Johnston, the 28th Governor General of Canada, had joined the board of Schlegel Health Care overseeing Homewood Health and Schlegel Villages, he spoke about the current #ElderWisdom campaign spearheaded by Schlegel Villages.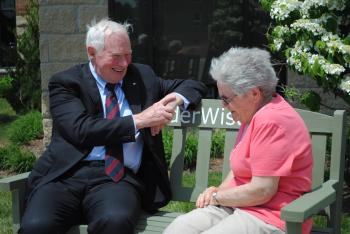 The Right Honourable David Johnston
says #ElderWidsom is a way to cherish our teachers.
He recalled the first speech he gave in 2010 after he was sworn in as the Queen's representative as Canada's head of state. "If you remember only three words of what I say today," he said that auspicious day, "they are 'cherish our teachers,' and if we had a day or two that we could spend together I could tell you a hundred stories about teachers, mentors, advisors, councillors who have had an impact on my life."
"That's what the wisdom of elders represents."
The #ElderWisdom campaign, running through the month of June to coincide with Seniors' Month in Ontario, invites people in all cities where Schlegel Villages is home to community elders to sit for a moment upon a green bench and speak with seniors.
"We learn from the people who've gone down the path before and have made some stumbles along the path and have recovered," Johnston says. The opportunity to sit with them for a little while during this specific campaign reminds us all of the value to be found in such depth of experience, and encourages people to see past the stereotypical views that follow aging to see that in the minds and hearts of seniors, much remains on offer.
"#ElderWisdom is highlighting the wisdom of seniors in our communities and highlighting the fact that they are still relevant, still contributing to our society in the many ways they can," says Karen Poveda, one of the key organizers behind this June campaign on behalf of Schlegel Villages. "It's our responsibility to encourage them to be part of the community and keep them in our foresights."
She says not only is it important for young people to connect with their elders but also for decision makers and politicians to continue to invest in the right supports for seniors so they may continue to realize their fullest potential and continue to enhance their communities.
"It's far too easy for people to see seniors as "the other," Karen says, "the people you will become eventually, in the far future. Having them right in front of you, having that face-to-face conversation, puts a name to the face, puts a story to that person . . . and it makes you a lot more conscious of the things you can do to help out and get to know people who are living in residences and villages like ours."
The green #ElderWisdom benches rolling out in communities across Southern Ontario this June provide opportunities for these conversations, but really they can happen anywhere, any time, if people would only make time for them.
"Life is complicated," the former governor general says, "and once you learn to take advice to help you along the way it becomes so much less complicated and the journey becomes so much more pleasant."
Events still to come for the month of June are:
Whitby | Civic Recreation Complex | Friday, June 8th | info
London | Outdoor Farmers Market | Saturday, June 9th | info
Hamilton | Hamilton Sign at City Hall | Monday, June 11th | info
Etobicoke | Islington Seniors Centre | Tuesday, June 12th | info
Brampton | Brampton Seniors Centre | Wednesday, June 13th | info
Facebook Live Panel | Live from Hamilton | Wednesday, June 13th | info
Guelph | Market Square | Thursday, June 14th | info
Toronto | Trinity Bellwoods Park | Friday, June 15th | info
Burlington | City Hall| Monday, June 18th | info
Waterloo | City Hall | Wednesday, June 20th | info
Windsor | Dieppe Gardens | Friday, June 22nd | info
Twitter Party | Hosted by @SchlegelVillage | Tuesday, June 26th | Register
Barrie | Heritage Park | Wednesday, June 27th | info
Kitchener | City Hall | Friday, June 29th | info
Waterloo | St. Jacobs Farmers Market | Saturday, June 30th | info