Feb 07, 2020 / Village Voice
Posted by: Kristian Partington
Her name means 'Woman of Honour,' and as I sit alongside Honoria (Nora) Groves, I quickly discover that, by all appearances, she has lived up to the title through nearly a century upon this Earth. It was her honour, or more appropriately, her sense of gratitude that brough me here this Wednesday morning. She'd sent a kind letter to the team that supports her in her home at The Village of Tansley Woods in Burlington, and I wanted to meet the author in person.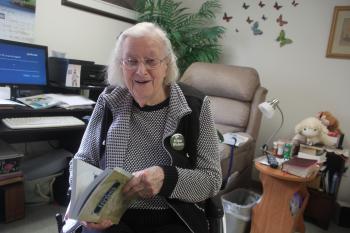 "I actually cried when I first opened the package," Nora says, 
as she speaks about how much it meant to her to receive
a special book of hymns from the team at Tansley Woods. 
Nora has a gentle voice, tinged with the soft accent of northwestern England, where she grew up in a small town not far from Manchester.
In her quaint room, an open binder of typed pages sits upon a table. These are the memoirs she began putting to paper in 1994, and she's still adding to them. They begin upon the 'Docks of Liverpool,' as the memoirs are titled, for that is where her life began anew when she and her mother left England for Canadian shores. Her father had died before the break of The Second World and it was hard indeed, but her family carried on. When she was 18, Nora began working in a cotton mill to support the war effort and once the war ended, thoughts turned to Canada where members of her extended family had ventured. She was 25 when she and her mother left the docks of Liverpool, eventually settling in the small farming community of Carlisle north of Hamilton.
We talk of how she met her husband there and the life they built together. We talk of her thirst for knowledge and her love of poetry and the written word. She tells me of going to college at the age of 55 and the new career in social justice that sparked after graduation She speaks of spirituality and faith, which she has held close her entire life, and she recalls teaching Sunday School at the age of 13. She would eventually act as a lay-preacher with the Methodist Church on several occasions, and she was an organist for more than 30 years.
She has always loved the hymns; music is a way to connect spirits and share gratitude for the divine gifts of the faithful.
It was her love of hymns that I'd heard about, which brought me to see Nora. For Christmas, she received a heartfelt gift from the Tansley Woods team that touched her deeply. In the evenings she would often hum the melodies of her favourite hymns, though she couldn't always remember the words. The team discovered this a gave her a book of hymns and scripture to fill every day of the calendar year, as well as a historical fiction novel.
One of the key aspects of the Schlegel Villages CONNECT The Dots customer service philosophy is to truly know each resident as deeply as possible, and the team clearly knew what this gift would mean to Nora.
"I actually cried when I first opened the package," Nora says, "because I was so touched by the fact that they were exactly what I wished for, especially the hymn book. I am able to read the devotional each day and sing the hymn to myself, complete with words.
"I can't tell you how happy I am."
Happiness is often a reciprocal feeling, and the team feels the same way about this Woman of Honour, and their gesture was able to show that love. I'm grateful I had the chance to hear about it in person.