Schlegel Village Team members 'proud' to be part of the conversation
By Kristian Partington
Over the course of two days at the end of March, team members from Schlegel Villages support office, The Village at St. Clair and the Village at University Gates were part of an Oral Health Think Tank hosted by the Schlegel-UW Research Institute for Aging (RIA) and the University of Alberta.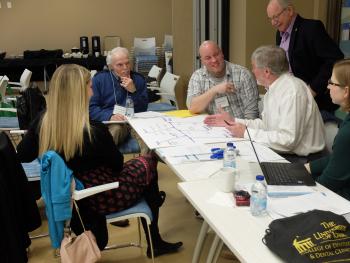 With the support of the Network for Canadian Oral Health Research (NCOGR), 30 people from across Canada, the United States and as far away as New Zealand represented a diverse range of professional backgrounds at the summit, each bringing their experience to the discussions about oral health among residents in long-term care.
Assessment, prevention, treatment and communication were the four pillars of focus during the summit, with the overarching goal being to set a target of priorities that will define a future oral health research project. Beyond the stated goals there was also the added benefit of true collaboration among researchers, educators, doctors, dental hygienists and the direct care partners who work with LTC residents every day.
Lora Bruyn-Martin, who has taken on a new role with the Schlegel Villages support office as innovation integration lead, says she hopes more future research projects can be developed in this way because she finds great value in the knowledge exchange and shared understanding that emerges through such collaboration.
"For researchers in particular, an opportunity like the Oral Health Think Tank can help them focus their research in areas that are likely to have the most impact on residents and those within their circle of care," Lora says. "Moreover, researchers will hopefully realize that any evidence-based interventions they develop must be usable by those who are responsible for delivering care within the context that they work."
There are many priorities for each individual resident in LTC and their needs are incredibly complex in most cases. With an issue such as oral health, researchers may have an idea of what could or should work, but until PSWs and nurses explain what a typical day looks like, those who don't work in direct care have no real understanding of what is practical and what isn't.
One of the attendees at the think tank, for example, suggested that care providers should aim for brushing a resident's teeth four times a day but as any PSW will tell you, it can be a struggle to manage twice-a-day in some cases.
"Resident quality of life should be the end goal rather than the amount or level of oral care achieved," Lora points out. "Residents have very individual preferences and beliefs regarding oral health and that has to be respected."
That perspective may have been missing had direct care partners not been part of the conversation, and PSW Shaun Watson says he was "proud" to have been asked to share his experience and insights.
"You have to look at it from everyone's perspective in terms of what they do in life," Shaun says. The most important perspective is that of each individual resident, he adds, and their choices, preferences and the practical realities of day-to-day living must be central to the conversation.