88-year-old A Morris Russell and  the story of a life of love, faith and service
By Kristian Partington
With a blizzard picking up steam outside the Village of Tansley Woods in Burlington on a late afternoon in early March, I find myself in the comfortable apartment of A. Morris Russell, discussing the beauty of love and devotion and the blessings he's cherished throughout a life of faith and service.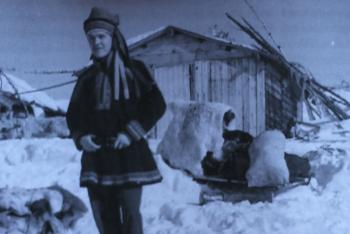 When I learned that Tansley Woods had recently hosted a book launch honouring the fact that Morris had published the story of his life, I was intrigued and knew I wanted to meet this man. As any writer will attest, completing a book to the stage of publishing is no easy feat so in meeting him, I figured I might learn a little something and be inspired in the pursuit of my craft.
Inspiration, however, proves to be too small a word after I meet Morris. This is a man who, at 88, clearly recalls the slightest nuance of emotion and every detail of memory going back to his time as a boy growing up in a tiny village on the banks of the river Forth in rural Scotland. He shares with me the love he felt for his family growing up and the pain he felt after his father's passing, which happened just before Morris's 9th birthday. Life grew difficult without a father to provide, but the family made their way through and Morris found himself as a young man apprenticing in the trades.
It was during this time that he felt the power of the word of God, and his path would be forever changed as a result. He would be led, along with a growing family, into a life of travel and service that brought him from the Arctic reaches of northern Norway to the east coast of Canada, the shores of Lake Ontario in Toronto and the beaches of The Bahamas. Along the way he would shepherd various ministries into prosperity and discover how important it is to follow one's heart in the pursuit of a life of meaning.
Norway to Nassau: My Exciting Life of Faith and Service is the memoir Morris wrote documenting all the steps he took along the way, first with Betty (Adaline), the daughter of a lighthouse keeper from the Shetland Islands who walked alongside him for 36 years until her passing, then with the second love of his life, Sarah, who only recently passed away.
"I have been so blessed," Morris says at one point towards the end of our long conversation. His eyes are moist, as are mine, for in almost two hours he's taken me on a journey through time. He told me of once being lost in the frozen tundra during one of many missions to minister to the Laplanders of Northern Norway and of the fear he felt not knowing whether he'd ever return to the warmth of Betty's side.
He spoke of the unknowns laid before his family as they crossed the Atlantic Ocean to begin a new life in Canada, guided only by faith and the promise of service to others. He also spoke of recently finding a letter Sarah wrote to him before Alzheimer's disease altered her memory forever, thanking him for the life they shared together while encouraging him to find happiness after she could no longer be beside him.
Inspiration, as I said, is too small a word and yet, as I later read through the book Morris gave me as we shook hands and said goodbye, I realize it was divine inspiration that guided this man through life. He was inspired by the love of God and gave himself freely to the sharing of that message. That gift has guided him through a life of beauty and meaning, and I'm thankful I looked him up when I visited Tansley Woods that snowy March evening.