Nov 14, 2019 / Village Voice
Posted by: Kristian Partington
Bev Saynor has been on her own for nearly 20 years, yet she still chokes up when she speaks of her husband. He was lost to cancer in 2000 after a four-year struggle, but Bev managed to carry on – it's simply what must be done. She lived in a condo in Mississauga's north end for a number of years and was surrounded by good friends there.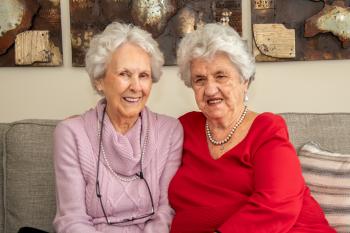 "It's the relationships that form that matter and
companionship is important," says Bev Saynor (right).
Upon returning home from shopping one day in Meadowvale, one of those friends mentioned she'd noticed construction underway at The Village of Erin Meadows, a retirement home that might suit Bev's needs. Bev's eyesight had slowly been worsening over the years and her friends and three children were beginning to worry for her.
"I was dead against moving," she admits. "I fought the idea of it."
This was the first she'd ever heard of The Village of Erin Meadows or Schlegel Villages, and she felt she didn't need to consider moving and could remain comfortably on her own. Her son convinced her to look into the possibility, however, and they arranged a tour of a sister Village in Burlington, the Village of Tansley Woods. After that visit she became more intrigued. By chance, she'd also met the son of the chaplain from Kitchener's Village of Winston Park, who relayed how proud his mother was to work for the organization.
She continued to rethink her options and came to Erin Meadows shortly after to meet the team there; she put her deposit down that day. Her only stipulation was she wanted a bright suite with plenty of light to make it easier on her dimming eyesight.
She moved in a month after the retirement neighbourhoods opened in early 2019 and she admits she found it "very difficult, at first." In fact, she says it took about six weeks for her to truly feel comfortable in her new space, attributing that comfort to new friendships she developed during that time. She maintained and still does maintain her connections outside of The Village, but the connections inside are key to her current state of contentment.
"Gradually, I got to accept things and got to know people," she says, not only other residents to whom she's grown close, but the team members as well. As large as The Village is, it almost feels like family, she says. She speaks of Charlie, Michael and Larissa, three fellow residents she spends a lot of time with. They gather in the library after dinner most nights sharing stories and laughter.
"It's funny how you just click with people," she says. "It's the relationships that form that matter and companionship is important."
Her advice to anyone else considering such a move is centred around those relationships. "Be determined to make friends," she says. "You have to realize that you have to put yourself out there and be willing to give of yourself."
The reward in her case is a sense of contentment she never imagined when the idea of moving first came up, and today she's thankful to be where she is.