May 09, 2019 / Village Voice
Posted by: Kristian Partington
Bob Rook looks up from his wheelchair to a life-sized model of a reconnaissance airplane from The Great War hanging in Ottawa's Canadian War Museum. It's much like the one his uncle flew and died in somewhere over the bloody, mud-caked battlefields of Europe more than 15 years before Bob was born. 

"I just wanted to shake their hands
and thank them," Bob says. 
"They called them flying coffins," Bob says, and the 90-year-old veteran Walt Conrad, who has volunteered to personally guide Bob through the museum, nods his head in agreement.
"That was what they were, indeed," Walt agrees, and Bob smiles while he shakes his head. It is a solemn place, this museum, yet it fills Bob with a great sense of happiness to be here. He's a self-described history buff and being in Ottawa fulfills a hope he's had for most of his life. He's been to London, Edinburgh and Havana, but he's never spent time in his own nation's capital city, and if he's honest, he never thought the chance would come after he moved to Fairview Nursing Home seven years ago.
But the team there knows Bob. They know his passion for history and his interest in the inner workings of government, so in December they began planning a trip. Bob may live with muscular dystrophy and a few physical limitations, but with the right assistance and a bit of luck and kindness, they knew they could make it work.
On a sunny morning in early May, Bob boarded a VIA train in Toronto alongside team members Angela Keller, Courtney Clouthier and Crystal Hill. They were in Ottawa by early afternoon after a comfortable ride in business class, complete with hors d'oeuvres, beverages and warm towels. They weren't expecting the bump in class, but it was certainly a nice treat, compliments of VIA.
They went straight to the National War Memorial and the Tomb of the Unknown Soldier in the heart of the city when they arrived, where Bob paid his respects to the sacrifices of the past. He also spoke at length with the two sentries who stand guard at the memorial, proud to thank them for their service.
"I just wanted to shake their hands and thank them," he says. Each of the three ladies who witnessed it says it was an emotional experience watching Bob offer his tribute. In fact, there's a sense that Bob is fulfilling a lifelong dream, they say, and that in itself is enough to cause emotion to rise.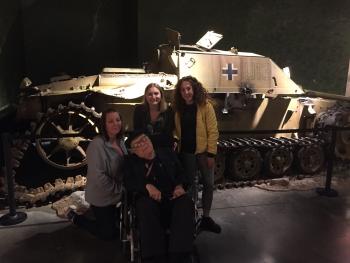 Crystal, Angela and Courtney together with Bob at
the Canadian War Museum in Ottawa.
Beyond the war memorial, the travellers were welcomed into The House of Commons, despite renovations at Parliament Hill, and Bob was happy to spend time in the seat of Canadian democracy. After a dinner of fish and chips at a Scottish Pub, the four retired as guests of Governor's Walk Retirement Home, which kindly opened its doors to Bob so he might have a safe and comfortable place to hang his hat.
Ottawa's reputation as a big, small town carried forth the following day, when the museum refused payment for passes, insisting on extending Bob and his companions the best of the museum's hospitality.
Walt's presence, as a retired Major from the Canadian Forces with a master's degree in history who was everywhere from Korea to Cyprus to Churchill, Manitoba throughout a distinguished career, greatly enhanced the experience. Walt spoke from the heart about stories of service he learned firsthand, and Bob's appreciation flowed freely.
A trip such as this takes an immense amount of planning – and some reliance upon the kindness of strangers and a stroke or two of luck – but the team says the effort is entirely worth it when they see the appreciation in Bob's eyes. One of the five pillars of the Schlegel Villages Connect The Dots customer experience philosophy is "Know Me as a Unique Person" – this team clearly knows Bob and understands what warms his heart.