'The growth of this group has been amazing,' says Jane McKinnon Wilson
By Kristian Partington
The latest cohort of leaders from across Schlegel Villages to complete the Leadership Program for Long-Term Care and Retirement Living celebrated their achievement during the organization's annual Leadership Retreat in April.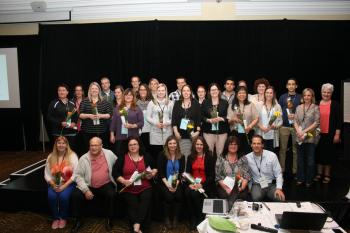 The program was first launched in 2012 and as with cohorts past, this group represented a diverse range of different positions from within the village teams – some people were already in leadership positions and others not officially so, though their impact as leaders in direct resident support is no less important.
"The growth of this group, especially in people who are not in leadership positions now, has been amazing," said Jane McKinnon Wilson, the instructor who led the group. "Witnessing the growth and the journey they're on is a true privilege."
The program, developed through partnership with the Schlegel-UW Research Institute for Aging, Conestoga College and Schlegel Villages, is designed to inspire leaders to consider their commitment to the overall mission, vision and values of the organization they serve with a strong focus on servant and strengths-based leadership. The idea is that anyone in any position has the power to influence the positive growth of the team by drawing upon the strengths of every member and supporting them in their development. Ultimately, quality leadership values, as taught in the leadership program, will help nurture an environment where committed team members flourish and those who live in a retirement or long-term care setting reap the benefits through deeper relationships and enhanced life quality.
"From Day 1 of this leadership (program), we talked about our mission, vision and values and this set the focus throughout the whole year," said Christa Roseborsky, director of food services at the Village of Aspen Lake in Windsor. She then shared the story of how she drew upon the knowledge she gained in conflict resolution to better support a particular family member who was advocating for her loved one. The first reaction for many may be defensive, Christa explained, when they face a challenging person, "but when we stopped to take the time to empathize with her, we were able to move forward with solutions."
One of the most impactful aspects of the program, for Christa, was the development of her own action plan focused on what was learned, how that knowledge would be promoted and how to inspire others in the implementation of that knowledge.
"As leaders, our role is to take the first step in helping achieve our vision for the ideal future and putting living first for our neighbours (residents)," Christa said. "Lean on each other's strengths," she told the audience, "and as a village we will continue to change the culture of aging."