Audrey had never been in a parade before, until now
By Kristian Partington
This is the time of year in communities across the country when lights are being strung across the eaves of houses, Christmas trees are being decorated and children's eyes are alight as Santa Claus parades wind their way through downtowns large and small.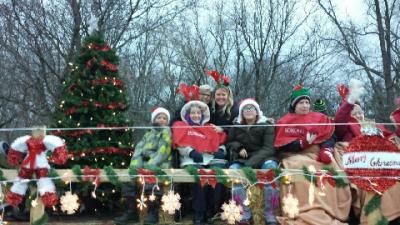 Audrey Morgan has been to so many parades in her 86 years she could hardly count them, but up until a damp Saturday in mid-November, she'd never had the opportunity to sit upon a float as a participant
She was part of the group representing the Village of Sandalwood Park in Brampton's annual parade on a float generously donated by a friend of recreation director Jennifer Gould. This was no small affair – Jennifer's friend Andrew of SD Towing and Recovery offered a full-sized flatbed trailer carrying Audrey, Jennifer and several other residents, team members, families and volunteers, who all brought Sandalwood Park to life for spectators of the parade.
On Thursday and Friday, Jennifer, Andrew and a collection of other volunteers decorated the float and on Saturday they finished just in time. The rain that had fallen all day gave way to clear skies for the duration of the parade as dusk fell, and Audrey says it was a magical experience to be part of.
"My daughter thought I was a real hoot because I had to wait until I was 86 to go in the Santa Claus parade," Audrey says with a laugh, "but I really enjoyed it."
She noted that solid preparation was part of the reason everything ran so smooth on a damp day; everyone was dressed warmly and had plenty of food and warm drinks to keep the chill at bay. There was also a genuine sense of family affection among the Sandalwood group, notes Jennifer, who was joined by her son and her parents. Nursing director Megan Newbury's grandmother, Hilda lives at the village and was able to participate as well, so along with Megan's mother and children, four generations of the family were part of the event.
That Audrey shared her first time in a parade with some excited children made the day that much more special, she says, and she'd be happy to plan to do it every year. "The spirit of the whole thing," stands out as the greatest memory, she adds, "and the staff here worked so hard to get everything organized for us – I just went along for the ride."