Feb 18, 2020 / Village Voice
Posted by: Kristian Partington
When Bryce McBain announced that Schlegel Villages was seeking teams of volunteers to support Habitat for Humanity in its large, multi-family complex in Guelph's east end, the response was immediate.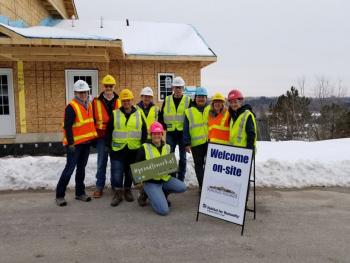 Team members from three Villages, as well as a resident,
took part in three volunteer build days in support 
of Habitat for Humanity Wellington Dufferin Guelph.
Three teams representing Bryce's home Village of Riverside Glen, as well as The Village of Arbour Trails, Waterloo's Pinehaven Nursing Home and the Schlegel Villages support office were filled almost instantly. Every facet of the diverse teams within the Villages were represented as people traded their typical work attire for hardhats, safety boots and tool belts.  
Once the work started on the first day, Bryce took a moment to consider the diversity of the volunteers and he was proud that all village disciplines were represented. The Villages are at their finest when the teams all work together in support of residents, he says, and that collaborative spirit carries on when the teams are giving back to their wider community.
"It's a fun way to work closer with different departments because there are different groups of people here today," says Riverside Glen administrative assistant Jane Panta. "It's nice to be working alongside them."
Personal support worker Cherry Fran says she considers The Village of Riverside Glen "my second home," so she'll jump at any opportunity to volunteer with her team. "I love all the people who work there and I love my residents," Cherry says, "so I love my community." She says the volunteer build day was a fun learning experience in many ways; not only did she learn how to frame an interior wall and use an air-nailer, for example, but she also learned about Habitat for Humanity and the work it does in the Wellington Dufferin Guelph region to make home ownership a reality for those who may not otherwise have the opportunity.
When the site the Schlegel Villages teams were working on is complete, 28 families will feel the positive benefits, explained Habitat for Humanity construction manager Jeff Born, and that is worthy of pride, Cherry says.
Riverside Glen has an ongoing relationship with Habitat for Humanity, donating often to the organization's Re-Store, which sells gently used furniture, household goods and construction material to raise funds to support families. The volunteer build days helped strengthen that relationship while drawing team members closer together.
Click here for more information on this Habitat for Humanity project or to learn more about the organization as a whole.