Oct 02, 2023 / Village Voice
Posted by: Kristian Partington
It's a bright October morning on the edge of beautiful Niagara Falls as close to 500 Schlegel Villages leaders, team members and residents gather to begin a three-day dive into "The Genius of the And." The concept behind the theme of the organization's annual Operational Planning Retreat, explains Chief Operating Officer Paul Brown, is about recognizing and accepting two contradictory ideas in the quest to achieve meaningful growth. It comes from the author Jim Collins in his book, Good to Great.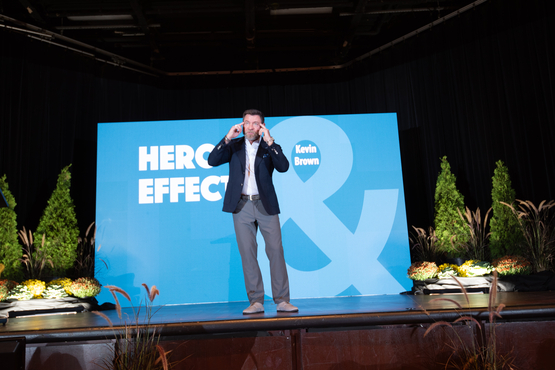 Continuity and change; humility and will; responsibility and freedom – when we learn to embrace the contradictions found in our day-to-day, we can step away from the "tyranny of either/or," Paul says.
The path for three hefty days of discussion is set by author and motivational speaker Kevin Brown, who redefines the idea of the "hero" through his deeply personal reflections on his family's trajectory through life, and his journey from a homeless teen struggling against great odds to a successful author and motivational speaker.
In early 2020 as the world shut down under the threat of a new virus, the word hero spread heavily, especially as we looked to healthcare workers who struggled to keep people safe while the unknown threat grew worse. Kevin began exploring the "Hero Effect" long before that, however, and he's travelled the world sharing his perspective, while learning from others as he asks people to define their impression of a hero.
He hears about soldiers and leaders in the military, first responders, sports heroes and so many others, but the cliché of ordinary people who do extraordinary things makes him uncomfortable. The phrase, he says, "aligns with our humility, but doesn't make sense."
"We are not put here to do ordinary things," he says. "Extraordinary people who chose not to be ordinary has changed everything for me."
Near the end of an hour-long speech filled with deeply personal reflections and his discovery of what makes a hero, he looks out at the 500 people gathered from across 18 Villages.
"I do not believe you are in this room by accident or mistake," he says.
Nobody is simply ordinary. The people in the room make life better for every other single human around them and help others discover untapped potential. In all walks of life, people often carry giant bags of hurt and frailty along their journey, Kevin says, and extraordinary people help others lighten that load.
After his talk, Kevin considers the connection he now has with Schlegel Villages and the leaders in the room.
"It's easy to see their heart," he says, "and when you see an organization's heart you know they're pouring it into you; these are leaders who pour it into people who are pouring it into the residents and the families, and it extends way beyond the Villages."
"When I started talking to the Schlegel Family," he adds, "it was easy to see their heart. You don't stay around for 70 years without doing something right," he adds, noting the family's seven decades of community building. "More than anything else, it's a commitment to the people."
In that heart is the desire to offer the best of care AND the best of life quality for all connected to Village life. It's the genius of the and, indeed, and the conference has only just begun.