Jun 17, 2021 / Village Voice
Posted by: Kristian Partington
Pauline Jenkins was a young lady growing up in England when she first picked up a knitting needle. It was pretty much out of necessity, she says, for this was a time of scarcity after the Second World War and it was common for households to create and repair their own clothing.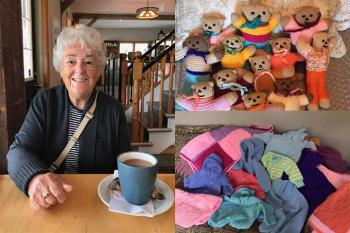 Pauline Jenkins has created gifts for others around the world
with her knitting skills. She's now part of a community 
group doing the same for Hospice Wellington. 
It was a common experience for many of that generation, and through all of Pauline's life, her yarn and needles have been a constant. There's a relaxation element to it, she says, though she's been doing it so long it's like second nature. Her daughter Lesley says Pauline's gifts have found their way all over the world, from the signature baby outfit that all of her grandchildren received when they entered the world, to blankets, scarves, mitts and hats gifted in countless numbers to friends and family.
"It's doesn't matter who I'm doing it with or for," Pauline says. "It's knitting and I just love doing it."
"We have all benefitted from that," Lesley says. "There's nothing like a hand-knit sweater or blanket."
And now Pauline has found a new way to blend her love of knitting with her generous spirit. She became one of the first community partners connected with The Village of Riverside Glen to join the "Tight-Knit Group" of residents and neighbours, all working to create comforting blankets for Hospice Wellington.
"I was very inspired by a conversation I had with Pauline about her love and passion for knitting," says Marlayna Niechciol, the Village Experience Coordinator at Riverside Glen, where Pauline is planning to move in the not-to-distant future. "There are probably other people who share the same passion so we thought, why not create a 'tight-knit group' of like-minded knitters?"
"The whole purpose is to join our Village with the community, with our next-door neighbours to all be working for the same project," Marlayna adds, "and I think Hospice is just a lovely idea for the first time."
It certainly isn't the first time Pauline has donated her crafts. Lesley has done several volunteer service trips and on each one, a bag of her mother's gifts would come along. Hundreds of Pauline's treasures have made their way to places like Nepal, Guatemala and Peru, while closer to home, her luck blankets were offered to the hospital.
Pauline says she's happy to be part of a group like this, even though she's not yet able to join in person. With the new relationships she's developing, however, her connection to the Village will be well stitched together when the time comes to make the move.
---
Learn more about The Village of Riverside Glen