In early August, Edith Hickey, a resident of The Village of Riverside Glen in Guelph, sat proudly at the front of the Village chapel as her grandson Nick married the love of his life. The bond between grandson and Nanny, as she's known, is strong.
A few months ago, the Research Institute for Aging and The Village of University Gates Innovation Team cohosted a Curiosity Fair that brought residents, RIA researchers and school-aged scientists together in a science fair showcase format. There, a young boy named Quinn shared all he knew about solar power while his great-grandfather, a University Gates resident and former professor of chemical engineering at the University of Waterloo, proudly watched.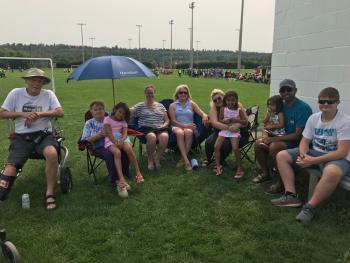 The influence of grandparents and great grandparents on younger generations is powerful.
Countless Schlegel Villages team members will tell you the reason they became a caregiver is because of the connection they had with the older generations in their family, and Schlegel Villages wants to shine a spotlight on such connections. In the lead up to Grandparents Day on Sept. 9, people are asked to share their story of why their Grandparent is the "Grandest."
With an easy to access online form, offered here, people can share photos, stories and videos that capture the nature of the love they feel for the elders that influence their lives. Each entry will be added to the specific village's webpage to then be shared across Schlegel Villages' social media platforms.
One random entry will be chosen to have their story told in a special edition Village Voice article, where storyteller Kristian Partington will personally interview grandparent and grandchild in the hopes of capturing the unique beauty of their connection.
The influence of a grandparent is everlasting; it's felt every day within Schlegel Villages as Wilfred Schlegel's grandsons work tirelessly to create homes that honour his respect and reverence for community. The residents who choose to make their home in one of the villages are the centre of that reverence, and Grandparents Day and this special platform is a chance to share the story of what your grandparent means to you.
Click here to learn more or to submit your story.