Sue-Hee Kim and her boyfriend, Nick Doyle, had considered the idea of getting married at some point this year, but they're subtle people and the thought of a big, flashy wedding didn't really suit them.
When they realized a quaint chapel sits along Main Street in the Village of Riverside Glen where Nick's Nanny, Edith Hickey, has lived for close to a year, an idea sparked. Nick has always been close to his grandmother and when Sue came into his life, she quickly grew to love Nanny as her own; to be married in a small, quiet ceremony at Riverside Glen that Nanny could be a part of made absolute sense, so they asked.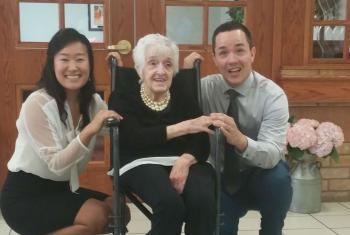 Actually, Nick's mother Bridget called the village on July 30th. "Would we welcome her son to get married in our village where his grandmother Edith could be present," was how general manger Bryce McBain recalls the question.
There was no hesitation. Team members have been married there before and the family of a resident is family to all, so the team prepared to welcome them four days later. The chef made a cake, the chaplain prepared a lovely service and refreshments were served afterwards.
Sue recalls all the subtle details that made everything special, like the beautiful flowers set outside the chapel that day; she never asked for them, but they will forever remain in her memory.
"I thought my husband was playing me because they were exactly my favourite flowers," she says. "I thought he'd planned it with the house, but they were subtle and they were simple, so (The Village) did add their own touches and they were really pleasant surprises."
Sue admits that when they visit Edith, they don't often interact with much of the team, for they spend most of their time in her room in quiet conversation. To see the wider team – people she doesn't know – genuinely excited to make her wedding day special speaks volumes about the care they provide for Edith and her neighbours.
They want everyone to know they are special, and as her grandson and bride were the quiet centre of attention on Aug. 3, Edith was as well.
"Nanny had a really good time," Sue says. "It really just made her day."
In a lovely outfit, she sat in the front row of the chapel during the service, holding the rings that would unite her grandson in marriage with the woman he loves. It was a memory to be cherished always, and Sue's gratitude for the Village's efforts comes through clearly as she recounts the beautiful day.
"It really was amazing," she says.