Jul 20, 2021 / Village Voice
Posted by: Kristian Partington
Even before March 2020 when COVID-19 was declared a pandemic and Ontario went into lockdown, Chris Nelson's family was being affected by the virus. Loved ones who had travelled to Mexico that February became seriously ill when they returned with what they thought was just a bad flu. Her brother-in-law is still facing difficult symptoms more than a year later.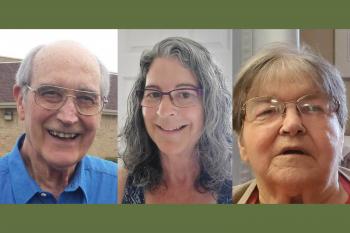 "We should share whatever information we can
to help them come up with answers," says Chris Nelson, which 
is why she and her parents are part of the important COVID-19
Immunity Study led by McMaster University.  
Chris came down with something similar just over a week after Ontario's first lockdown was ordered – what she called the 21-day-flu. She could barely summon the energy to heat a meal up in the microwave and it would take until October before she felt she was truly over that flu which, like her brother-in-law, would later be confirmed through antibody testing to have been COVID-19.
Her mother's experience after contracting COVID-19 after she was hospitalized in the fall of 2020 was also shocking. Though she is in her late 80s, thankfully she pulled through, though not without serious complications; she's only just starting to gain strength back after moving into Waterloo's Pinehaven Nursing Home in March. It was because COVID touched her family so closely that Chris, her father and her mother all chose to participate in a study led by two researchers from McMaster University aimed at determining the efficacy of vaccination in Ontario long-term care settings.
Dr. Dawn Bowdish is a professor of pathology and molecular medicine at McMaster University and is the Canada Research Chair in Aging & Immunity and Dr. Andrew Costa is the Schlegel Research Chair in Clinical Epidemiology & Aging and an assistant professor in the department of Health Research Methods, Evidence, and Impact and the department of Medicine at McMaster. Dawn and Andrew are leveraging partnerships with Schlegel Villages (which owns Pinehaven Nursing Home), St. Joseph's Health in Hamilton and Sudbury's Health Sciences North Research Institute with the hopes of enrolling 2,000 long-term care residents, visitors and team members in the study over the course of a year.
As of mid-June, there were 347 participants involved in the COVID-19 Immunity Study – 189 residents of long-term care homes, their loved ones and some of the team members who support them. With just a few drops of blood from residents, the researchers are studying the levels and quality of antibodies is in older adults to determine how effective the COVID-19 vaccine is for LTC residents, and how long they are protected against COVID-19 infection, including variants of concern. For that, they need people like Chris and her parents and team members like Mike Sousa, a Registered Practical Nurse and RAI Coordinator with The Village at University Gates.
Mike has seen the impact of COVID-induced isolation during outbreak scenarios for those he serves, as well as the suffering and loss the virus has caused for older adults and their loved ones since it first hit in Canada.
Like Chris, he wants to do anything he can to help understand the impact of the virus and vaccination in order to prepare for a more hopeful future.
"COVID is one of the great crises of our time," Mike says, "and I feel like any way any individual can support to try and make things easier down the line, then why wouldn't we be doing that? It's a relatively small time commitment for me and the help that it could potentially give is fantastic, so I wanted to be a part of it."
Chris echoes that sentiment as she describes support for the ongoing quest for knowledge. "We have really great minds in the world that can do something about it, and we should share whatever information we can to help them come up with answers," Chris says. "There has been too much information that conflicts with each other because we don't know enough."
Thankfully, everyone Chris loves who was affected by COVID has pulled through, though health challenges do remain for some. Just as she's helping researchers understand more about the impact of the virus and the vaccines at a molecular level, she says telling the story of the virus's impact on their lives is important so others can understand the consequences of the virus and the needs for robust, scientific inquiry.
"I'm just hoping that people continue to take everything seriously," Chris says. "I think this study is going to tell us, especially for the length of time that we're going to do it, whether we've possibly lost some of that immunity to be a protective measure." 
Click here to learn more about this important study.