Jun 04, 2015 / Village Voice
Make a Wish program at Tansley Woods takes flight
By Kristian Partington
The nearly full moon still lingers in the dawning sky as the sun creeps up over Kitchener this clear June morning, while from a trailer, a team of three unravel the fabric that will make a dream come true. 

Tansley Woods resident Edna Peaker with hot-air balloon pilot Mark
O'Neill, a few hundred feet above Kitchener riding the breeze.
 I've been invited to join Edna Peaker and Norm Segger on a hot-air balloon ride this day, along with Mike Killip, the lead chef at The Village of Tansley Woods where the two have made their home since the summer of 2013. I'm sure my face is filled with the same sense of awe, excitement and trepidation that shows upon theirs as the massive balloon fills with 250,000 cubic feet of warm air. After a short safety lesson from our pilot, Mark O'Neill – who's been around balloons as long as he can remember – we climb into the basket alongside eight other adventure seekers, all of us eager to ride the wind.
It's probably been 30 years since Edna first imagined taking a trip such as this, she tells me as we ascend over the city. She thought it'd be a fun adventure to take with her husband, but his health never really allowed for it and when he passed, the idea slipped from her mind. Until recently that is.
It came up in conversation not long ago at the village, Mike says, and the idea fell perfectly in line with the Make a Wish concept the team there introduced over the past few months. The idea is simple: if a resident has a dream, something they've always wanted to do, and the team can make it happen, then they'll do their best to make it so. They've created fundraising opportunities to tuck a few dollars away so when the opportunity presents itself, they can act. 
This day couldn't have been more perfect. The air was calm with only the gentlest of breezes, and the smile upon Edna's face as we gently floated above Kitchener was as magical as the act of silent flight itself.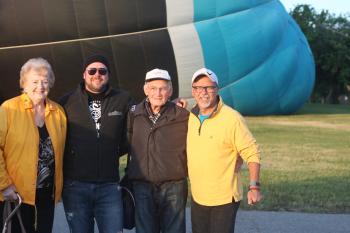 Four adventurers prepare to take flight thanks to a program at Tansley
Woods designed to make the dreams of residents come true.
"It feels wonderful," she says between the loud thrusts of heat thrown by the burners. "I'm so glad to have the opportunity to do it. It's just fantastic."
"I'm absolutely speechless," says Norm, looking out over the city and the countryside surrounding it. He was a navy pilot during the Second World War and continued to fly until about 20 years ago. Now, just a couple of weeks shy of his 92nd birthday, he's taking in flight from a whole new perspective.
An hour passes in what seems like only minutes, and we make our quiet descent. Mark, our pilot, picks a small patch of pavement in what seems like too small a space, and we drop as peacefully as a feather. It's not always so smooth, Mark tells us in his rolling Irish accent, and Norm later tells me that the confidence, skill and poise the pilot displays is as impressive as the concept of ballooning itself. 
"I love seeing how happy they get," Mark says while considering the smiles he sees on upon the faces of his guests.  It's barely after 8 a.m. when we share a traditional Champagne toast following our safe arrival back at the launching site. We hear more about Mark's grandfather, David Hooper, who helped pioneer modern ballooning back in Ireland decades ago. Mark's mother, Carol, who joins us in the toast today as part of the ground crew, followed in her father's footsteps and she passed the art to a third generation. Mark's children are hooked as well, he says, and they're but four and five.
It's a beautiful gift they offer us, this rare chance to ride the wind in peaceful tranquility, and the gratitude shimmers upon the faces of Edna, Norm and the rest of us as we say farewell and climb into our cars to travel our separate ways.
It seems so boring, now, trudging along the highway; I'd take the path of the crow any day but for now, the memory of this morning as I watched some dreams come true upon the breeze is what I have to carry me forward. Many thanks to Mark, Carol and the team from Sundance Balloons for making it happen. 
Visit www.sundanceballoons.com to learn more about hot-air balloon rides across Canada and the U.S.