Jun 07, 2019 / Village Voice
Posted by: Kristian Partington
In his younger days when John Mitrik was still in high school, he was a fan of the sciences. He enjoyed learning through experimentation and watching concepts he might read about unfold before his eyes.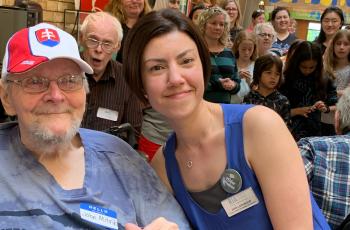 John together with the RIA's Sian Lockwood at the Curiosity 
Fair, hosted along Main Street in the Village at University Gates.
When he learned that the Schlegel-UW Research Institute for Aging's Curiosity Fair was to be hosted right on Main Street in his home, The Village at University Gates, he was more than happy to get involved. The event draws young people from a local elementary school together with RIA researchers and members of the community in the name of science – think of a science fair without the competition. The event helps visitors and participants discover the impact of research on healthy aging while also connecting new friends among different generations.
John's experiment combined milk, food colouring and dish detergent to create a kaleidoscope of colours that drew the attention of many passersby.
"The children were so excited and amazed that this could happen out of a few odds and ends," John says. He very much enjoyed interacting with the young people, perhaps reminding himself of his own curious mind at that age. "It was a real thrill for other people who were there to come by and see my system," he says.
In all, eight residents from University Gates showcased experiments or research while countless others were able to visit the event simply by venturing out of their neighbourhoods to Main Street.
It was a busy place on a Friday afternoon at the end of May, and recreation director Nicolette Harrow says The Village was happy to host. It's simply another benefit of sharing a building with the RIA and counting its team and researchers as good neighbours. The entire community feel of the event stands out in Nicolette's mind as the overarching success of the day.
"It's nice to see a school coming in from the community, researchers coming from the community along with other families," she says. "Seeing them all together is kind of what Schlegel Villages envisioned and we had it all there in one day.
"It was a nice feeling to have everybody together in our Village."
John encourages other Villages and long-term care homes to consider similar partnerships with local schools or universities to bring communities together because he and his fellow residents enjoyed the day so much.
"Everybody needs something special in their life," he says, and this event was a special day to be sure.