May 16, 2019 / Village Voice
Posted by: Kristian Partington
Jennifer Allen and Lee-Ann Air are sitting in the sunshine outside of the Village at University Gates, quietly writing out personalized thank you cards for some of their fellow team members. Contained within each note is a quote from someone else in the village who, at some point in the recent past, took note of something special that this particular team member did. 
The quotes are part of the village's 'Spot the Dot' initiative, which urges villagers to take note of exceptional customer service as it relates to the Schlegel Villages CONNECT the Dots customer service philosophy.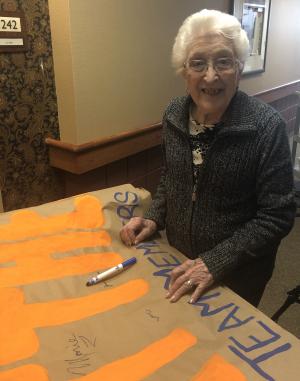 Residents at University Gates took time to write
thank you messages upon banners of gratitude.
'I'm always so appreciative of how well you know your residents,' reads the quote Leanne inscribes in a card for one of the nurses. 'You keep everyone updated to any changes or concerns. Thanks for all you do – you are one of a kind."
Jennifer and Leanne are both part of the Village Advisory Team – a collective of residents, team and family members who help guide the village on its continual quest for improvement. As a group, this team wanted to do something personal during Caregiver's Week, which Schlegel Villages has chosen to mark May 12-18.
Across the province in all villages, barbecue lunches, massages, hand therapy sessions, all day breakfasts and gifts of thank you cookies and treats have been offered to all the caregivers. They are small gestures of appreciation for the dedication and commitment these selfless people offer in service of others.
The thank you cards Lee-Ann and Jennifer are working on are just another form of this outpouring of gratitude. Much time and energy has been spent since the 2018 Operational Planning retreat on utilizing gratitude as a tool in the intentional design of happiness and well being, and the villages are taking the concept to a new level during Caregiver's Week.
Jennifer points out, however, that it's important to continue this focus each and every day and not simply wait for a special week to commemorate the gifts others offer.
"It's really important to keep spotting people when we see them going above and beyond in those areas of customer service," she says. "It doesn't have to be a big thing – appreciating somebody can be words. It doesn't have to be a gift; it doesn't have to cost a lot of money.
"You can make someone feel valued just with gratitude."
Throughout the villages, this spirit of appreciation continues to grow, and Caregiver's Week has helped it plant even firmer roots.