Jun 19, 2019 / Village Voice
Posted by: Kristian Partington
When Warren Maybee ventured into the skies above the Waterloo region on a cool day in late April, his greatest dream to fly again was realized amid the clouds. He has always loved the beauty of flight, and that love has never faded over time.  

Warren in "the golden age of flight" for a young pilot in 
the Royal Canadian Air Force.
When Warren was boy, his father won a chance to circle the skies above a local fair near St. Catharines in a small airplane. Deciding his sons might get more out of the experience than he would, he chose to let Warren and his older brother take his place, in many ways transforming their lives; through a lifetime his brother would never find comfort in an airplane, but Warren was absolutely hooked.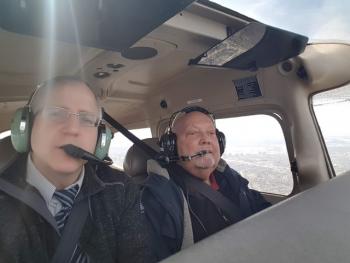 Warren and pilot Chris high above the Waterloo Region. 
He joined the Royal Canadian Air Force seven years later at the age of 17, young enough to require a parent's blessing, which his father offered against a mother's protests. At the dawn of the Cold War, Warren flew CF 100s with the RCAF over the border between west and east, sometimes venturing into communist air space to taunt and tempt the silent enemy.
He loved flying during a time he calls "the golden age of pilots." It was a time when he and a buddy could simply grab a plane during leave and fly to Paris for the weekend, or practice their skill and showmanship dodging the steep peaks of the Alps. His life as a pilot led him to his wife, Marida, whose father was a medical consultant overseeing the Western Air Force bases of Europe. They met and married in Germany and saw countless exciting places before Warren left the Air Force after 10 years. Back in Canada, he was asked to train new pilots for a time before he eventually left the skies behind to join the foreign service as a trade commissioner representing Canadian business interests in Europe and the Soviet Union.
Together with Marida, Warren led a full life, raising a son and daughter that offer pride in their every movement through life. At 80, with a serious brain tumor threatening the time he has left to spend with Marida in their home in The Village of Riverside Glen, it seemed his only regret was that he might never have the chance to again control winged destiny from the seat of an airplane.
When The Village learned that Warren's hope in the face of illness was simply to fly again, team members and residents made it happen. As part of the "Make a Wish" program, funded through village events, Warren was able to join a pilot named Chris on the runway of the Waterloo Wellington Flight Centre on a late April day under partly cloudy skies.
When Chris offered the controls to Warren, his life felt complete once again, and as he shares the story, the smile on Warren's face is the sincerest form of gratitude he can offer.
"I didn't want to over control it at first," Warren admits, "because I haven't had an aircraft in hand for a long time, but it didn't take long to get the feel of it and then you're right back where you always were."
It was like no time had passed, decades becoming mere days in the mind's eye, and Warren was instantly at home in that small airplane.
"When they told me my wish to fly an aircraft (was happening), they couldn't have given me anything more," he adds. "That was something that I've wanted to do for so long."
The young man who dodged mountain peaks and communism over the skies of Europe in the late 1950s smiles through Warren as he shares his story, while the contentment of an old man smiles proudly as well.