When iFLY instructor Ryan Desjardins walks up to shake the hand of his new student, 87-year-old Jim Dubie from the Village of Riverside Glen in Guelph, he makes and receives a strong first impression.
"Are you ready to fly?" Ryan asks.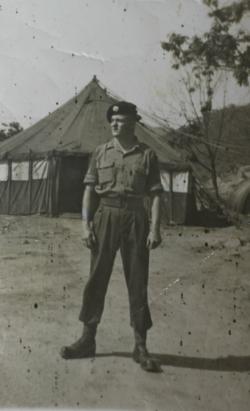 "My boy," comes Jim's reply, "I've been flying since I was 17." 
Jim trained as a paratrooper, eventually retiring as a master warrant officer from the Canadian army. He loved every minute of it. His eyes light up as he describes the training and the camaraderie and the strength of character it takes to build yourself up to the point when you can jump from a structure or an airplane.
Today, looking back to the young man he was then, watching as Ryan and the other instructors teach children and adults alike how to hold themselves in the vacuum wind chamber that simulates the feeling for free fall in skydiving, he feels pride and excitement. 
"There's a man who loves his job," Jim says, looking over to Ryan. "I love the enthusiasm, the light in his eyes."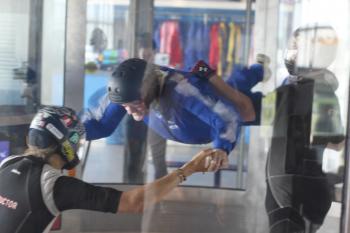 Then he shifts his gaze to two boys, maybe 11 or 12. "They're ready to fly," he says, "but they're a little different in character. See the one boy? He's calm and cool, probably done it before. The other, he's fidgeting around, can't sit still. He's nervous." 
Later their chaperone confirms what Jim suggested. Her son has flown before, her nephew hasn't.
Jim has come to Oakville's iFLY almost by chance. One day in June, Riverside Glen's recreation director Meghan Connolly sat with Jim for an extra bit of time, chatting and trying to get to know each other better. It was at that time that Jim talked about his experience as a paratrooper and when she later told general manager Bryce McBain about their discussion, he mentioned iFLY.
"What if he could fly again?" the team thought.
Meghan reached out to iFLY and not only did they welcome the opportunity to meet Jim, they offered to wave the fees. It would be an honour to have a veteran in their midst so on a hot summer day, Jim switches his veteran's suit for a flight suit, patiently soaks up the information offered by his instructor and enters the flight chamber. His walker remains outside.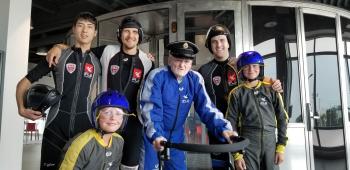 The two boys are in there with him, each waiting for their turn to fly. "They are the future," Jim says. Part of the reason he joined the service was to ensure they had a future and now he's flying with them. It's an interesting contrast.
With Ryan and two other instructors ensuring Jim's safety, he enters the wind chamber. At one point, the simulator takes them to 185 km/hour. Jim is calm and cool, if not a little exhausted when his minute is up.
Then he goes again. He doesn't hesitate.
He knows he's not as fit and strong as the young paratrooper in the photos he brought along with him, "but you never try to compare your natural abilities to others," he says.
"Every movement is a challenge, and for you to meet that challenge, you have to push your body."
The instructors all shake his hand when the flights are over, realizing that age is simply a number and a person of any age can push their limits.
"It was a pleasure flying with you," Ryan says.
"The pleasure was all mine," says Jim. Then he collects his walker, makes his way to the Riverside Glen bus and home to The Village, fulfilled and proud to know he's still got the ability to meet any challenge he sees ahead.