Doc Wright lies back on his bed with a well-worn Fender electric guitar cradled in his arms. The unmistakable riff that opens Chuck Berry's Johnny B. Goode pours out and Doc grins a little as he explains that this was the song that first made him want to play the guitar.  
That was 1958 and Doc, or William as he was known back then, was still pretty much just a kid. He worked to get himself his first guitar and once he did, however, he never looked back. There are a couple of small photo albums on a shelf near Doc's bed filled with photos of guitars he's held over the years. He and his wife Rita never had children, he says, but he had "plenty of great guitars."
In 2018, Doc was inducted to the Windsor/Essex County Music Recognition Program to take his place among 113 other people on the Wall of Fame who added to the local music scene in the region.
Doc has been a fixture upon that scene since not long after he first heard Chuck Berry sing about a boy in Louisiana who never learned to read or write so well but could play the guitar just like ringing a bell. Doc can relate to that character. He never much took to school or the jobs upon the factory floors his father suggested he take, but he studied the blues hard, eventually earning an honourary doctorate among the only circle of people that mattered to him – his fellow musicians.
In fact, that's where the name Doc comes from. "I'm a doctor of the blues," he says with another grin and another pluck of the Fender's strings.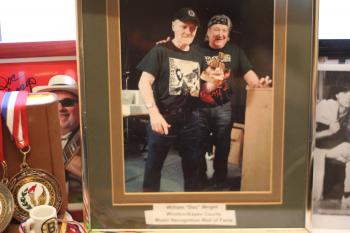 As Doc sits back on his bed caressing his old guitar, he recounts a few stories from his past – tales of touring with his old band from Windsor to Toronto or Ottawa for gigs and the long burnt-out drives home. He once played with the legendary Muddy Waters sometime in the early 80s upon the stage at Toronto's Colonial Tavern, and he shrugs like it was no big deal.
"How'd you get that gig?" he's asked.
"He says 'does anybody want to come up and jam,' " Doc recalls, "so I say: 'yah Muddy, I'll come up and jam with you, and I got up there and jammed with Muddy Waters."
And he was right at home.
"Doc's been around for a lot of years and is commonly regarded, by Blues musicians and fans alike, as 'THEE' [sic] guy in the Windsor Blues scene," reads a review from 1998 written by a musician named Robin Banks, who apparently had the pleasure of jamming with Doc the night before at The Aardvark Blues Café.    
"Doc's one of these guys that has so much going for him," Banks continued, "an abundant vocabulary, cool restraint, an endless well of ideas, but most of all he's totally unique and original. He doesn't really sound like other guys... he sounds like himself."
It's hard to imagine any of Doc's stories not including music, though if you mention hockey, you'll find the same sort of passion flows from his soul when he talks of the game
And then there's Rita, the woman who he's adored for so many years; his eyes light up when he speaks of his wife. He actually starts to cut his interview short so he can get ready for her arrival; it's Wednesday, he says, and Rita comes to visit him every Wednesday and he wants to look his best.
He places his Fender upon the guitar rack, right underneath a decades-old photo of his old band; beside it is the other taken during his induction into the Hall of Fame. He's asked one final question: what did he like most about playing in front of all those people during countless shows and gigs in bars and dives across the land throughout the years?
The grin comes across his face again as he answers: "The smiles," he says. "I loved it when you'd see the smiles upon their faces."