The weather was calm and clear over Windsor as residents, team members and families gathered at the Village of Aspen Lake for the annual Hand up for Haiti Walk/Run event hosted there. With neighbours arriving from The Village at St. Clair, it was the largest turnout yet for the event, which raises awareness of the connection between Schlegel Villages and Fonkoze's Chemen Lavi Miyò (CLM) program, as well as funds to support the organization's work.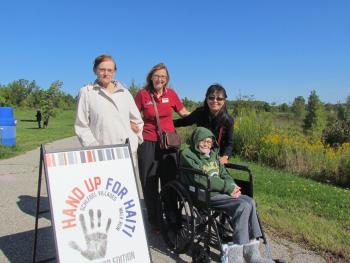 For the past six years, Schlegel Villages has hosted a central Walk/Run event in Kitchener in support of CLM, but this year the Walk/Run is being replaced with a golf tournament to raise funds. The Windsor Villages opted to carry on the tradition, however, to remind the community why support for their Haitian neighbours remains a priority.
CLM helps some of Haiti's poorest families work their way out of extreme poverty through education to help mothers learn the intricacies of animal rearing and small commerce. In doing so, they can begin to earn a living to support their families and most who go through the 18-month program are transformed. In 2014, the first group of Schlegel Village Ambassadors travelled to Haiti to learn more about the efforts underway there while offering volunteer expertise in a variety of capacities, from a palliative care hospital to a clinic for AIDS and tuberculosis patients. That first excursion led to a more refined trip in 2016 focused almost entirely on the CLM families, and another group will travel to Haiti in early 2018 to deepen these relationships.
Aspen Lake personal support worker Kristen Goulet will be among the group visiting Haiti in 2018, and she says "it's an amazing opportunity" to fulfill a personal goal and contribute a bit of herself in the support of others.
Two years ago, Kristen explains, a gas leak at her house led to an explosion and terrible house fire. "I lost everything," she says. "I went back down to having nothing and starting over again and I just changed my outlook on what's important in life and what you really need to be happy.
"You just kind of rethink everything," she says.
Thankfully, nobody was hurt in the tragedy but Kristen can't help but imagine what might have happened had she and her family been home at the time. She sees new opportunity in every day now, and when she considered Haiti and what she'd learned from others who'd travelled there, she saw an opportunity to "give back to humanity for everything that my community did for me."
"I'm at a point in my life that I'm able to do something like this," so when the group gathered at Aspen Lake on Sept. 9 for the Walk/Run, she was the first on the village's PA system to drum up enthusiasm and help spread the awareness of one community helping another. 
---
Learn more about Hand Up for Haiti