A few short days on the ground with Chemen Lavi Miyò
By Kristian Partington
Mirebalais, HAITI – The familiar sights, sounds and smells of Haiti came flooding back the instant I stepped off the plane in Port-au-Prince yesterday afternoon. The air is thick with heat and humidity, and the sound of traffic, music and the heavy tongue of Kreyol fills my ears.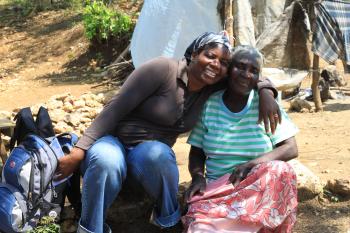 Just over a year ago, I was part of a team of Schlegel Villages ambassadors that travelled here to learn more about the land and her people. For the past four years, Schlegel Villages has nurtured a partnership with Fonkoze's Chemen Lavi Miyò (CLM) program, which supports some of the poorest families in rural Haiti as they work to climb from the depths of extreme poverty. Last year, we caught a small glimpse of CLM in action and on this short experience, I'll learn much more.
I'm a guest of the CLM team in the Central Plateau region, north of Port-au-Prince.  Steven Werlin and Hebert Artus, two CLM directors who visited Schlegel Villages last year during the annual Hand up for Haiti 5k Walk/Run fundraiser, graciously met me at the airport in Port-au-Prince and now, here I sit, after a day in the rolling hills east of Mirebalais with case manager Marie Josiane Delusme Michel and CLM administrative co-ordinator Fanelia Despagne.
We met with 10 women who, over the last nine months with CLM, have been developing new skills and economic opportunities while restoring the dignity that is so often diminished in the shadow of extreme poverty.
Josiane spent time with each woman, discussing the progress and looking for areas where improvement can still be made in the coming months. Half way through the program, it's clear that while some members make faster progress than others, the support each receives from their devoted case manager never wavers.
For the case managers and the team of directors that supports them, this is much more than a job. There is pride in this work, Fanelia tells me. If the case managers simply thought of it as a job, they would never last. Their commitment and dedication is the key to all success. To think of where these CLM members were when they first became part of CLM and to see them today is to see the type of progress that's possible when the right tools and supports are in place.
Tomorrow, more than 100 families from a different part of the Central Plateau will celebrate their success with a graduation ceremony marking 18 months of hard work. I'll be there on behalf of Schlegel Villages to honour their efforts and to capture a bit of the importance of the day for those back home who have contributed so much to the team and members here. Success can only come through the true support of community, and between the villages in Ontario and the villages here in Haiti, that community continues to grow closer.