Dec 30, 2020 / Village Voice
Posted by: Kristian Partington
At the close of year measured by sacrifice and loss, it's worth noting what has lifted the spirit and offered signs of hope. Within the Schlegel Villages community, one such beacon has been the ways in which Villages and team members have supported each other during the times of greatest difficulty.
Early on in the pandemic, three Villages in particular were hard struck with the first wave, and Lisa Rice remembers how worried she was for the residents she has supported for the past ten years at Erin Mills Lodge. Many of her fellow team members had been struck with the virus and the small home needed to fill those gaps quickly. She called her daughter Nekashae one evening, who was a recently-graduated Registered Practical Nurse, and Lisa asked for help.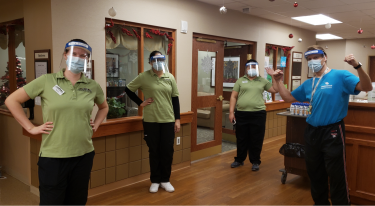 Team members from across the organization have been able to 
support their brothers and sisters during times of great challenge. 
Brad Schlegel was able to see this in action during his time over
Christmas in The Village at St,.Clair. 
"I'll make sure you're safe; I'll gown you up, I'll mask you up and if you get sick, that's on me," Lisa told her daughter, "but I need you here."
Nekashae answered and she was hired immediately afterwards; she's been a valuable part of the team ever since. Still, at that time, more help was needed and, as an organization, a call to action went out to all Villages for team members who would be willing to relocate to support a sister Village in outbreak. Referred to as the SPRINT team (Schlegel Professionals Responding in Necessary Times), this was a way to capitalize on the serving hearts of people who know the Schlegel Villages culture and philosophy. Angelo Ciardella and Trenee Wenster from The Village at St. Clair were among those who answered, and Lisa remembers the feeling of relief as they arrived along with others from across the organization to help Erin Mills Lodge regain stability and push beyond the outbreak.
Now she is returning the favour. Early in the second week of December, The Village at St. Clair was declared in outbreak and widespread testing confirmed the virus had spread quickly, despite the team's best efforts. Dozens of team members were soon off with symptoms or confirmed positive cases, and even more residents were testing positive. In a region where several other long-term care and retirement homes are experiencing outbreaks, replacing staff who are at home in isolation was no easy feat.
Lisa and Nekashae were among the first to responded when the SPRINT team was called into action.
"I had the confidence and I felt I could handle myself under pressure in a situation like this," Lisa says, "so when they asked me, I didn't hesitate to say yes." Her daughter was on board as well and they were in Windsor within two days. It was a difficult situation to walk into, Lisa says, "not unlike what she had experienced so many months ago.
Nine days later, however, as she speaks of her experience from the Harrow neighbourhood she's grown to know so well, things are much more stable, thanks in no small part to more than 20 team members from 10 Villages that have answered the SPRINT Team call to action, along with several key community partners.
There is no denying the tragedy of loss the team and families have faced these past weeks, but there are signs of hope today.  
"For the most part, residents are looking great," Lisa says. "We just did some Facetime visits with a couple of them with families, and I'm excited to see that I've helped; my efforts helped to bring them back to where they are today."
Several Support Office team members have been on site daily for weeks, RIA research chair Veronique Boscart arrived just before Christmas to offer her clinical nursing skills and so many others left their own families behind in order to support their extended family at St. Clair. It's a point of pride across the organization.
Pinehaven Nursing Home was able to send kinesiologist Adrianne White, who is originally from Windsor, and general manager Luke Denomme says the gifts she offers residents in his home are well-placed in a sister Village in need. "We are all extremely proud of Adrianne and all the others for their courageous decisions," Luke says.
Brad Schlegel saw this dedication first-hand when he offered what help he could from Christmas Eve through Boxing day, and he says he was in awe of the commitment of the people he met and tried to support
Brad is the Vice-President of Design and Construction with RBJ Schlegel Holdings, of which Schlegel Villages is a key branch. He also follows in the footsteps of his father, who founded Schlegel Villages, and his grandfather, who opened his first care home for seniors in 1952.
"I'm not a trained nurse and I'm not a PSW," Brad says, "but I still wanted to help and I've got relatively young legs and relatively strong shoulders so whether it's mopping floors or carrying PPE, that's something I can do."  Brad knew his decision to offer what help he could was the right choice as soon as he arrived on Dec. 24. He has always admired the serving hearts of caregivers who offer themselves to others but, in the thick of such difficult circumstances, his admiration has grown exponentially.
"Notwithstanding the difficult times," says Brad, "I was unbelievably inspired by the commitment shown by the team there and the support team from across the organization. Although it was difficult to be away from family during a special time of year, what better way to celebrate the giving spirit of the Christmas season than to go to St. Clair and see it on full display."
And other partners have shone as well, including the team from Hôtel-Dieu Grace Healthcare (HDGH), led by CEO Janice Kaffer and Bill Marra, Vice-President of External Affairs, who have also been in the neighbourhoods helping out along with the hospital's clinical supports.
These gracious partners with HDGH seem to share the Schlegel Villages values," Brad says, and their support and encouragement has been invaluable. "They couldn't have been more complimentary to our team about our commitment to doing all the right things," he says. "We're stronger together and we know that the organization is strong," he continues, "and it's in these times that strength comes out and is even more meaningful.
"It's been on full display in The Village at St. Clair."
The immense burden of loss that has been felt across the country and indeed, around the world through 2020 is a little easier to carry thanks to the inspiration of so many, and that is worth shining a light upon.