Coming from a family of sports fans, Lori MacKay recalls watching the Olympic games from Montreal in 1976 on the family's first colour television. Even after she moved away from home she would still call her mother when a big Olympic event was televised so they could watch it together.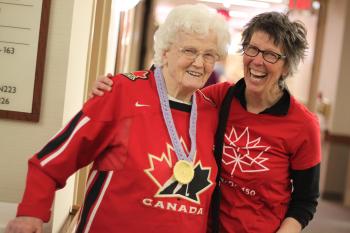 On Feb. 22 Lori joined her mother Eris, who lives in Emma's neighbourhood at Winston Park, to take part in the Schlegel Olympics as spectators. Decked out in their Canadian jerseys, they meandered through the village enjoying the friendly competition and the smiles on the faces of competitors and coaches.
"It's fun to come and see other athletes come and do things today," Lori says.
"Though I'm just watching," her mother Eris says, "it's been fun."
Lori visits her mother often and saw just how much effort it took to pull off the event, which draws residents and team members together from nine western villages. "It's an amazing amount of work that has gone into this, and I think it's great that they are encouraging residents to still be active because we know how important that is to good health."
And for those people who just came to watch and cheer on their fellow residents and friends, The Olympic spirit at both Winston Park and Wentworth Heights, which hosted the eastern villages on Feb. 20, was cause for smiles and even a few tears of pride.
Maria Daxner says it was hard not to get emotional when she watched her friend Sandy Hatch complete her "figure skating" routine at the end of the competition at Wentworth Heights. Sandy lives with some physical disabilities, yet she's not afraid to push herself beyond any limitation, and Maria is inspired by that tenacity, that ability to push past any type of challenge.
"That brings tears to your eyes," Maria says. "Sandy was so good, right on every step." When Sandy's name was announced for the gold medal, everyone from Wentworth Heights swelled with pride.
As she and her mother take in the Winston Park event, Lori comments on the importance of everyone working so hard to make the Olympics a success, for she can see team members and resident athletes enjoying every aspect of the day.
"It seems like there's a big support network for all the teams that are here," Lori.
"Everyone is so excited."